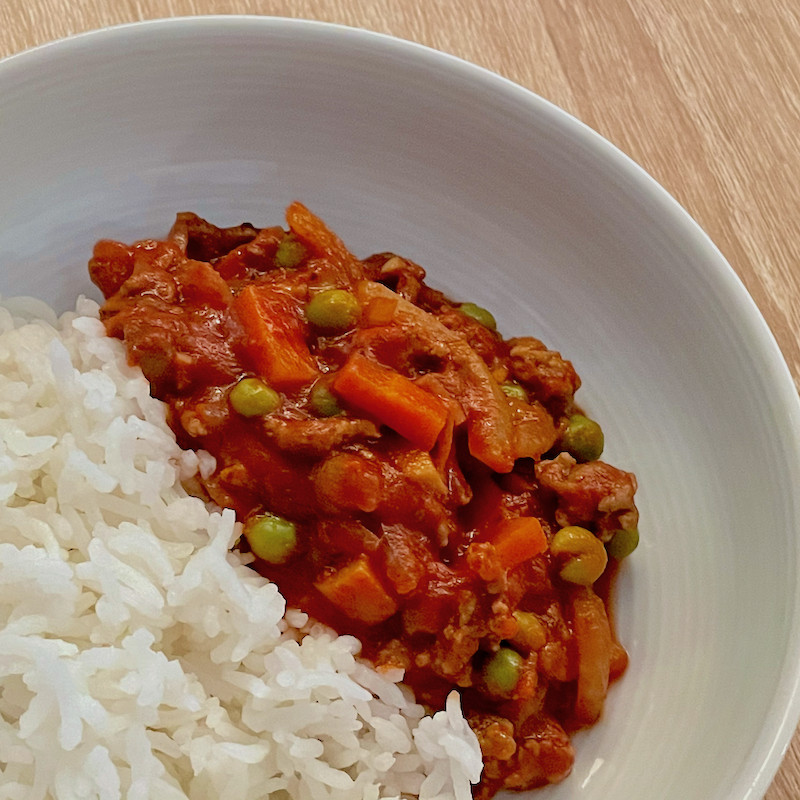 Meat sauce is one of those popular dishes that I'm sure each household have their own way of making.
For me, just like my 'Japanese Curry', I put emphasis on the onions. It's all about making them super soft and sweet, which then translates through the whole dish.
---
For The Whole Family
There's no need cook a separate batch for your little one because it's totally customisable for the whole family. When Jin was around 9 months, I would make a big batch, spoon out enough for his portions, then add the seasoning for the adults.
When serving, those who want to spice it up can do so. Check out the notes section of the recipe for variations.
---
Packed With Vegetables
Jin can sometimes be fussy with vegetables so I dice them up small and he just gobbles it all up without noticing!
I like to use peas, carrots and mushrooms but you can put anything you want.
If you're ok with the vegetables being chunky, I recommend keeping a bag of mixed vegetables in the freezer and piling those in when you cook this dish.
---
Batch Cook & Freeze
This dish is great for making a big batch for freezing in individual portions and because it's so versatile, you can pair it with anything.
I always have little pots of Japanese or Hom Mali rice and Fusilli pasta in the freezer so when I'm in a hurry, I grab pot of this Meat Sauce and a rice/pasta and there's a home cooked super fast meal for Jin!
---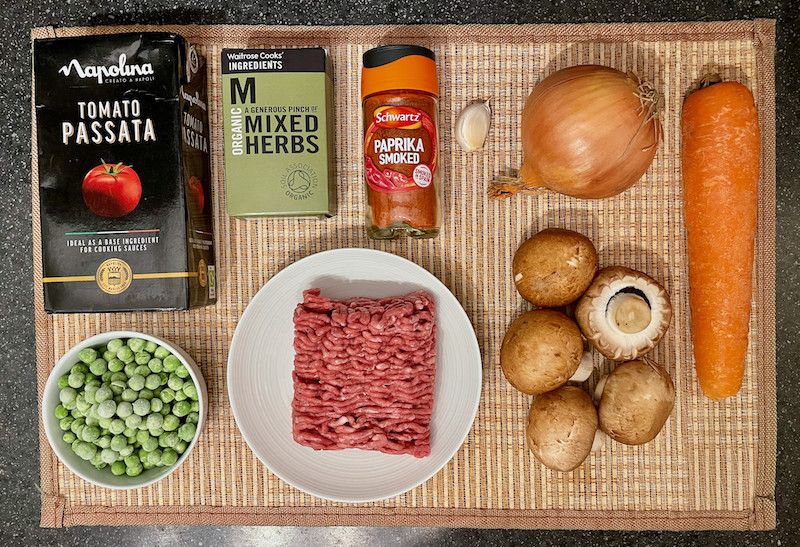 ---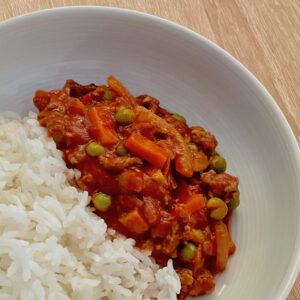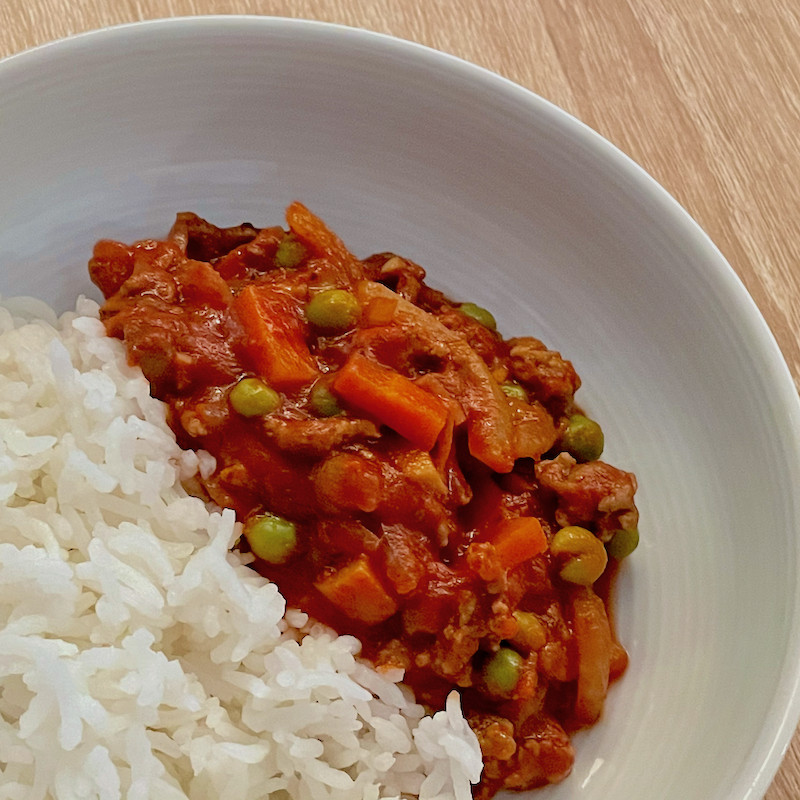 Tomato Meat Sauce That Goes With Anything (1 Year+)
A versatile tomato meat sauce packed with vegetables that can be served in so many ways.
Ingredients
250

g

Beef Mince (your choice of fat %)

1

Large Clove

Garlic

1

Large

Onion

1

Large

Carrot

60

g

Frozen Peas

Handful Of

Mushrooms

I use Chestnut Mushrooms

500

g

Passata

1

tsp

Dried Mixed Italian Herbs

1

tsp

Smoked Paprika

1

tbsp

Oil

I use Rapeseed/Sunflower oil
Optional
1

tbsp

Honey

1

tbsp

Ketchup

I use Stokes because it has less sugar & salt

Salt & Pepper to taste
Instructions
Prep
Dice the carrot and mushrooms into little cubes, as fine as you like so it's easy for baby/toddler to eat

Your vegetables should look something like this

Microwave the onion and carrot in separate bowls for 2min30
Lets Get Cooking!
Take a large pan or wok. On medium heat, add the oil and garlic and fry for a few seconds until it gets some colour

Turn the heat down to low, add the onion and gently fry for 5 mins until they're really soft. Keep moving them around so they don't burn.

I like to put the lid on the pan because the steam helps to soften the onions as much as possible

Turn the heat up to medium, add the carrot and continue frying for 2mins

Add the mushroom and fry for about 3 mins or until the mushrooms start to soften

Push the vegetables to the edges of the pan, leaving a space in the middle, add half the beef mince and fry until it starts to brown. Push the meat to the edge and add the remaining mince.

(If you add all the mince at once, the temp of the pan goes down suddenly and your mince won't be as juicy).

Once the meat has almost completely browned, add the frozen peas and mix everything together

Turn the heat to low, add the passata, mixed herbs and smoked paprika. Mix well, breaking up any clumps of beef

Simmer for 5-10mins with the lid on (ensure there's a gap for steam to escape) and you're done!
Optional
Add the optional honey, ketchup and salt+pepper

After it's done, take the whole pan with the lid on and place in an unheated oven for up to 1 hour. This will deepen the flavour and make the onions lovely and melty.
Serve Up!
Serve with rice, pasta, couscous, baked potato, boiled potato, mashed potato, anything you want!
Notes
Storage: This can be frozen as soon as it has cooled down. Consume within 3 months.
Tailor the dish for your baby or for adults:
Keeping it really clean for younger babies – leave out the oil, garlic, herbs, paprika, honey, ketchup and salt+pepper and use a non stick pan to fry the beef. Make it like this first, take out baby's portions then add seasoning for adults
Less tomatoey version – put less passata

For Adults – add the optional honey, ketchup, salt+pepper

Spice it up – swap out smoked paprika for hot smoked paprika
Make it Vegetarian – replace the beef with lots of diced/minced mushrooms
---
Give It A Try
You can pair this meat sauce with so many things like pasta, couscous, baked potato, anything!
I often use it to make a super quick Tortilla Pizza, which my 1 year old loves!
If you give this Meat Sauce recipe a try, let me know how it went in the comments below!
Here's Jin stuffing his face with this dish!