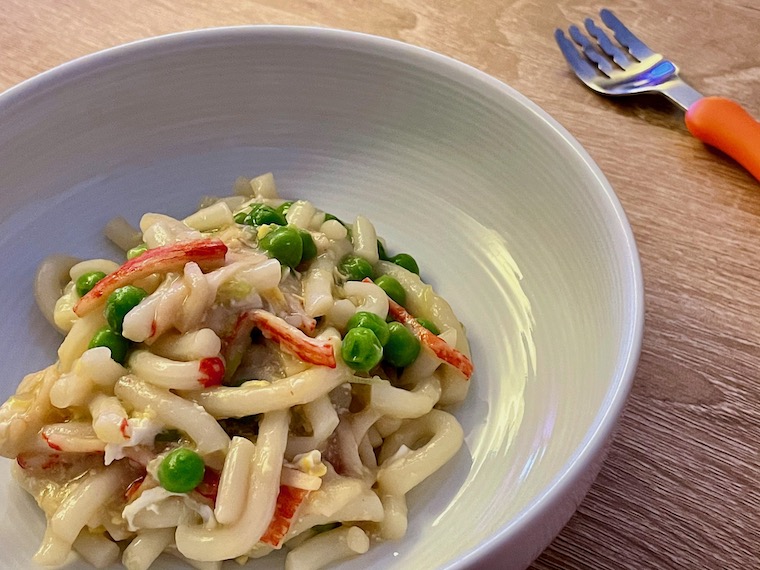 This 'Udon Noodles with Seafood Sticks and Egg' is a dish I've been making since Jin started weaning. Back then I tailored it to suit a young baby's taste buds, but now, I make this grown-up version that the whole family can eat!
Udon noodles are perfect for babies and toddlers because they're soft, easy to digest and can be used to make so many dishes. I talk more about Udon Noodles and how to eat them in my 'Ketchup Udon' recipe here.
---
Super Quick & Easy To Make – 10 mins!
I can make this dish at a moments' notice because it's made with ingredients I always have in the cupboard or freezer. The spring onion is the only fresh item I need from the fridge.
Once the prep is done, it can be on the table in literally 10 minutes!
---
A One Pot Balanced Meal
I love one pot meals because I can freeze them in portions, knowing they provide a balanced meal.
This one ticks all the boxes: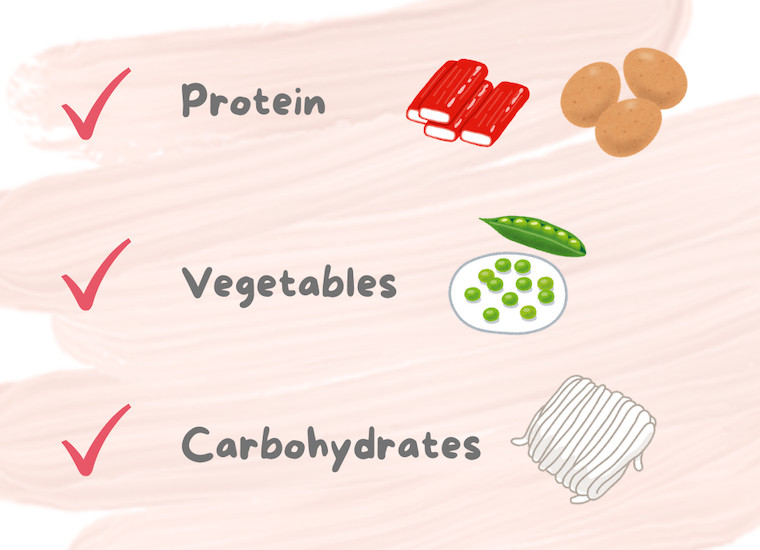 ---
A Comforting Dish When You Have A Cold
This is already one of Jin's favourites so when he has a cold, this is what I'll make because it's warming and easy to digest, kind of like how hot soup gives that warming effect.
---
Some Info On the Japanese Ingredients
This recipe uses 4 Japanese ingredients: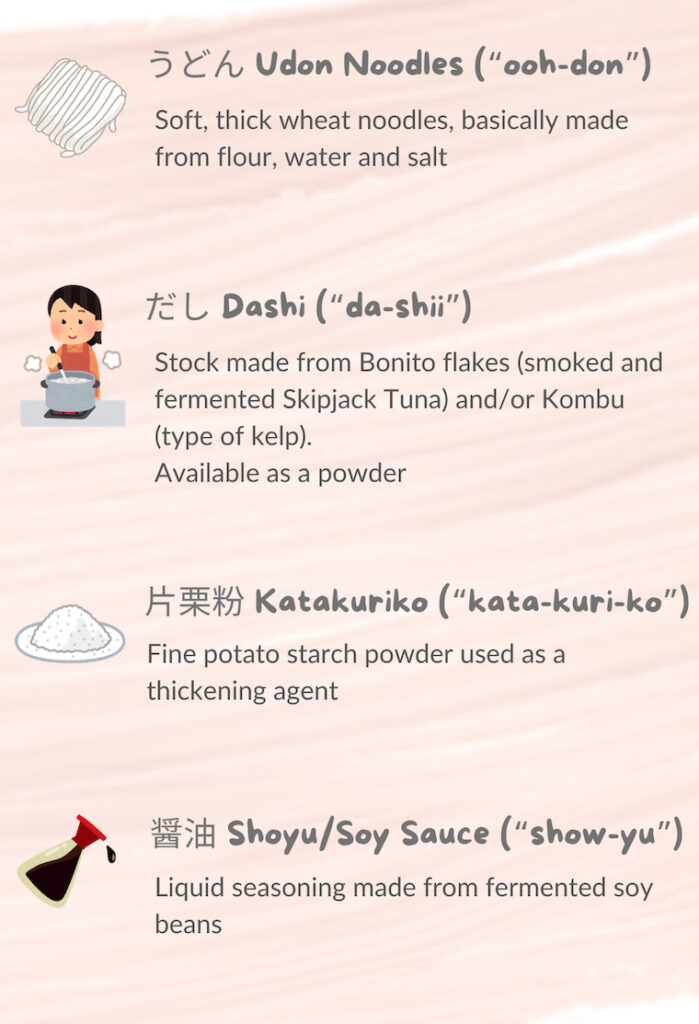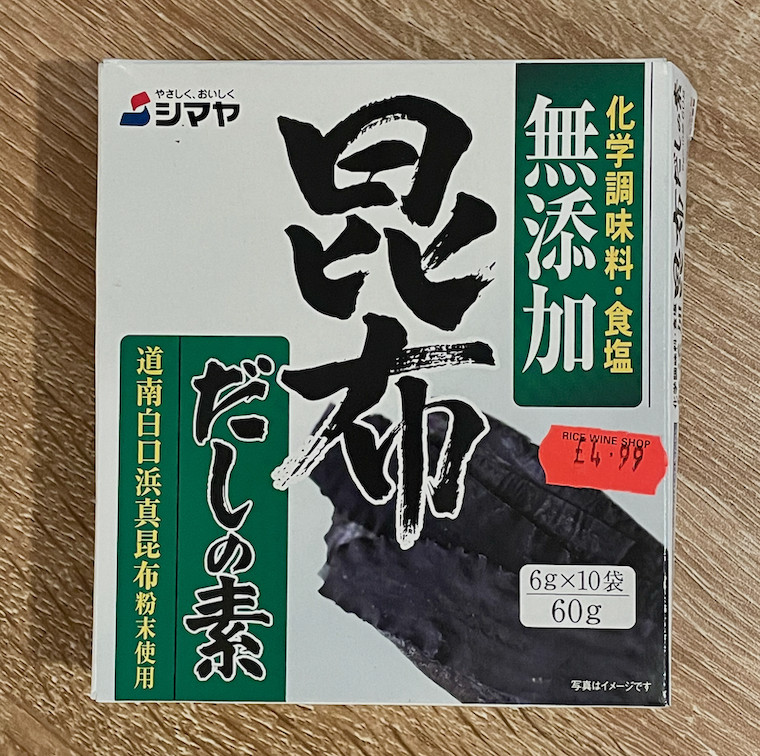 This is the Kombu Dashi sachets I use for my cooking. The brand is 'Shimaya'.
I like this product because it has no added salt or artificial flavours. It creates a mild umami flavour for soups, fried noodle, fried rice, hot pot and so much more!
You can buy all of these or similar from any good Oriental supermarket that stock Japanese products. If you're in London, Japan Centre or Rice Wine Shop is where I buy these things.
Otherwise, I've seen the Udon and Soy Sauce available in UK stores like Sainsbury's and on Amazon.
---
So here it is, my Udon Noodles with Seafood Sticks and Egg.
Enjoy!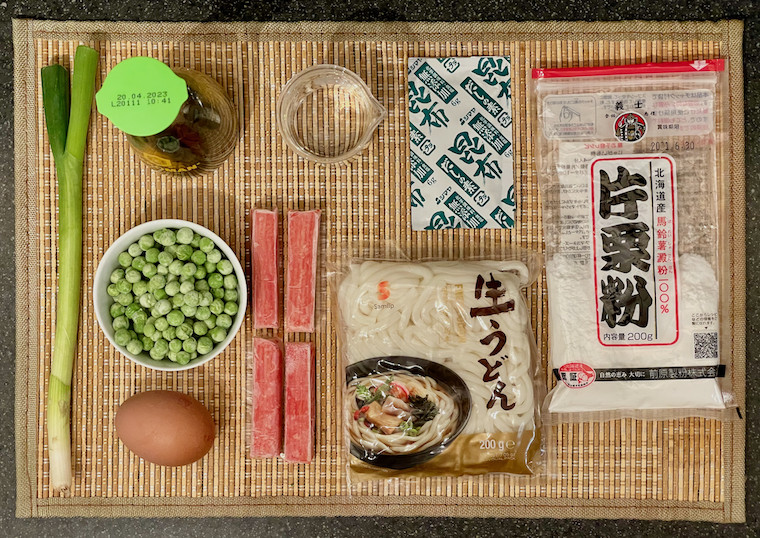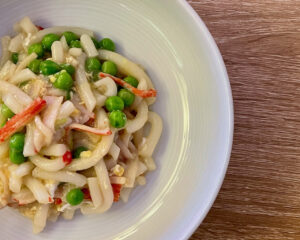 Udon Noodles With Seafood Sticks & Egg (1 Year+)
A warming Japanese udon dish which can be enjoyed by adults and tailored for under 1's.
Ingredients
1

Pack

Udon Noodles

Vaccum pack type containing the fresh udon

4

Seafood Sticks

I use frozen

1

Large Egg or 2 Medium

60

g

Frozen Peas

Or a veg of your choice

1

Spring Onion

1

tsp

Japanese 'Dashi' Powder

Or half a baby-friendly stock cube

1

tsp

Japanese 'Katakuriko' Powder (potato starch)

Or corn flour/any thickening agent

1

tsp

Less Salt Soy Sauce

I use the brand 'Kikkoman'

250

ml

Water
Instructions
Prep
Take the udon out of the pack and cut into a grid of 12 (or more if you want the udon pieces smaller) and gently break up the noodle with your fingers. Set aside


Defrost the seafood sticks if you're using frozen. Cut them in half, roll each piece between your hands and separate them into strips. Set aside


Slice the spring onion as fine as you can. Set aside

Mix the egg in a bowl. Set aside

Take the Katakuriko, add 3 tsp of water and mix. Set aside
Lets Get Cooking!
Take a medium/large frying pan. On a medium heat, add the water, dashi powder/stock cube, seafood sticks and frozen peas. Bring to the boil (2mins or so). If you're using a stock cube, taste and add more if you need to

Turn the heat down to low, add the udon, spring onion and soy sauce. Mix so the udon is evenly spread

Put the lid on and simmer for 1min

Pour in the Katakuriko evenly (it may have settled whilst you've been cooking so make sure you give it a mix first, then pour). Mix everything constantly and you'll start to see the sauce thicken

As soon as the sauce looks thicker, pour in the egg evenly, leave it for a few seconds then mix everything well

The egg will be cooked very quickly, make sure you don't overcook.

As soon as the egg has cooked through, take off the heat and it's ready!
Notes
Storage: This can be frozen as soon as it has cooled down. Consume within 3 months.
Recommendation for 6-12 Month Babies – softer noodles and less seasoning:
Replace the Dashi powder with either a home-made seaweed/fish/vegetable stock or use stock cubes suitable for babies
Exclude the soy sauce
When doing the prep, defrost the frozen peas and crush/chop them so it's easier for baby to eat. Add to the pan in Step 1
When doing the prep, chop the udon finely so baby can easily eat with a spoon. In step 3, simmer for 2mins longer so the udon becomes even softer
---
Give It A Try
If you give this Udon Noodle recipe a go, let me know how it turned out in the comments below!
Here's Jin loving his dinner.