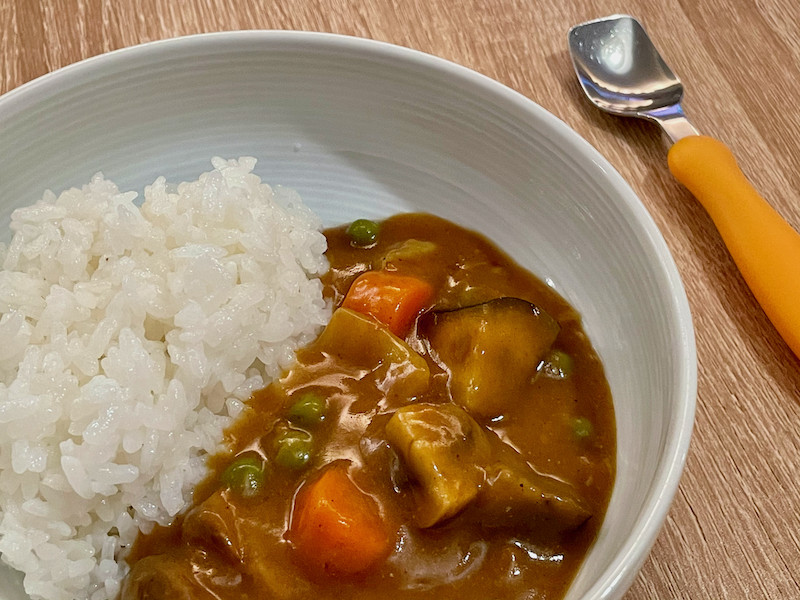 If you've never tried Japanese Curry before, you must! This comfort food dish is loved by kids and adults alike in Japan and can be customised to how you want.
There's no need to make separate toddler and adult versions. Here, I'll show you how easy it is to make a mild version for the whole family, then after serving up, you can make spice it up if you want to.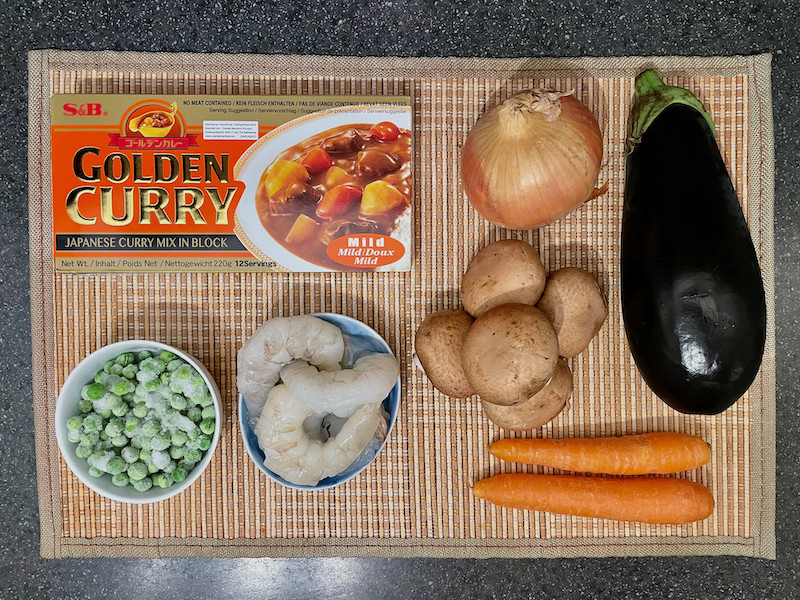 ---
What Is Japanese Curry?
Although Japanese curry derives from Indian curry and has the base spices like Turmeric, Cumin and Coriander, it's completely different. It's MUCH thicker and is sweetened with fruit or honey.

Without giving you a full history lesson, 'curry' came over from India to the UK, then UK to Japan who put their own spin on things.
It comes in a block like this, which you stir into your ingredients and water, sort of like stock cubes for a stew.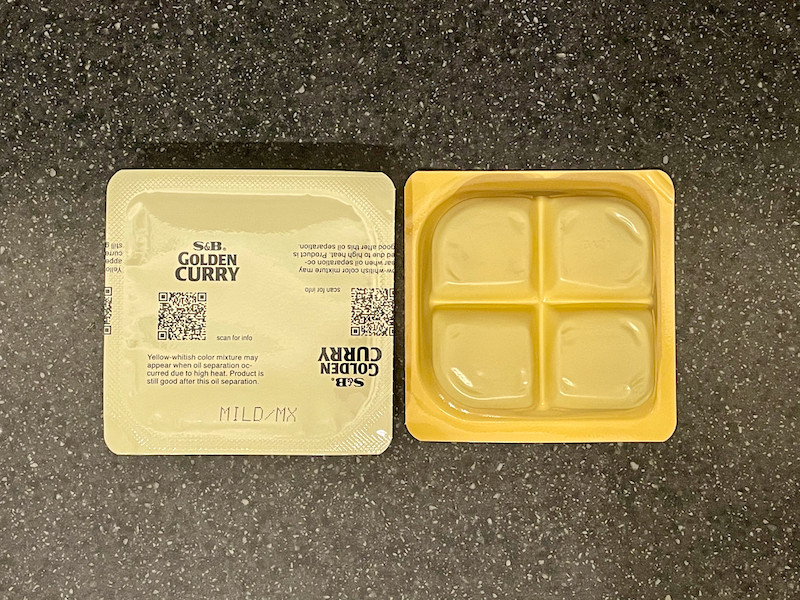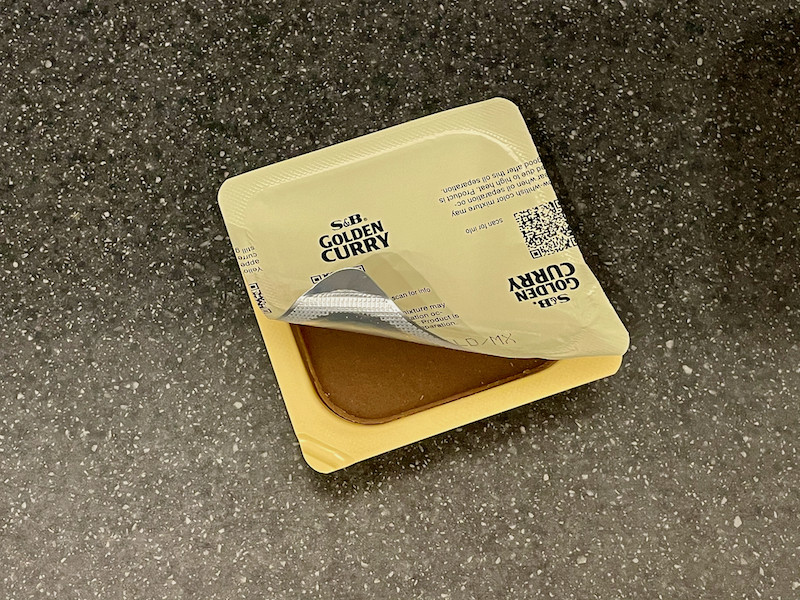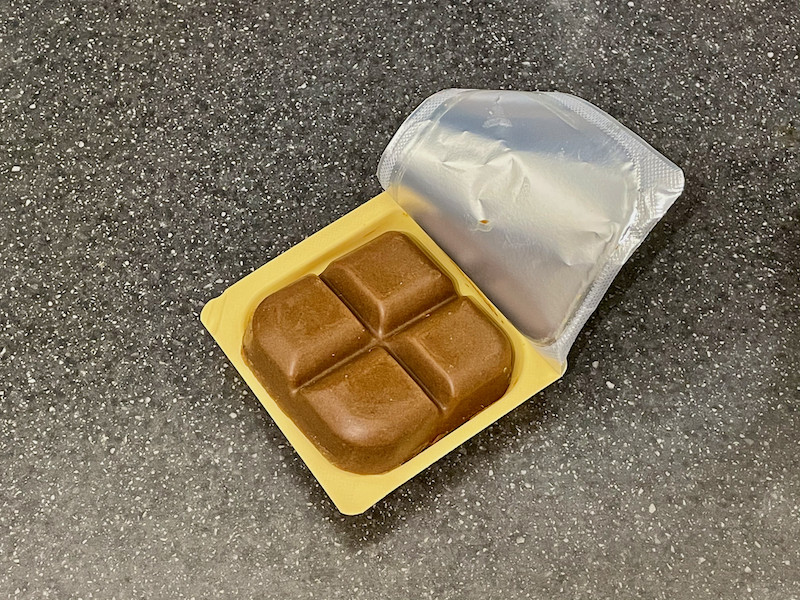 The Packs Look Like This:
甘口 'Amakuchi' – Sweet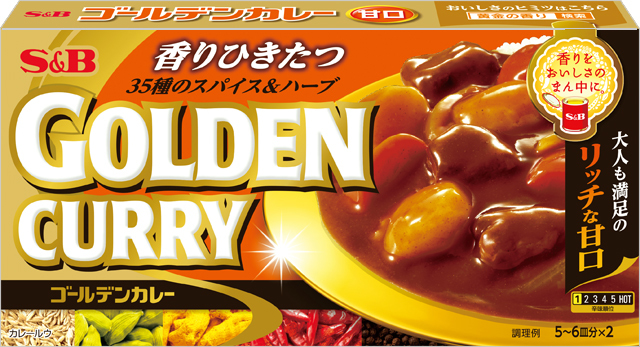 中辛 "Chukara' – Medium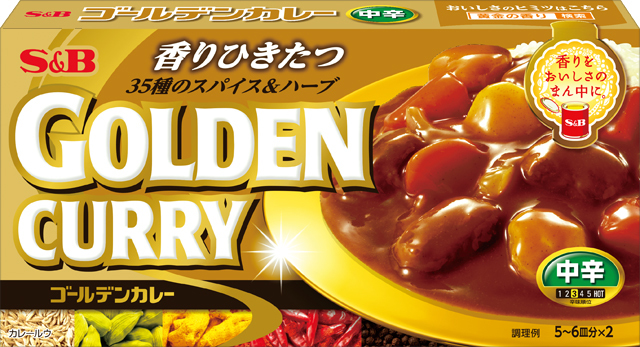 辛口 'Karakuchi' – Hot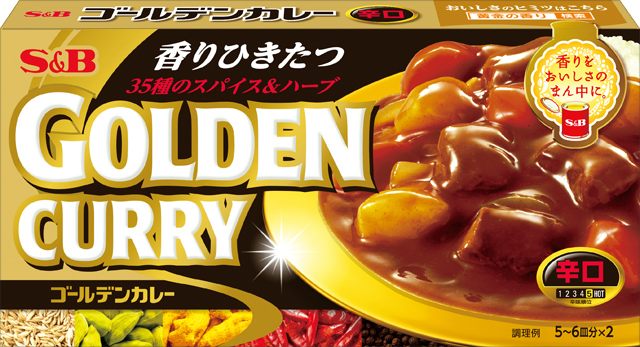 ---
Is It Toddler Friendly?
Yes, if your toddler has completed the weaning stage and is basically eating food that you eat (for us it was between 1 and 1.5 years old), they can eat the mild version of these curries.
I'll show you how to make it extra mild and baby friendly in the recipe below.
---
And It's From A Packet?!
If you're put off by this, I hear you because I usually make everything from scratch for my baby but now that he's 1.5 years old and wants to eat everything we're eating, I'm beginning to relax a little. Only a little!

This is a dish loved by kids his age in Japan and if we were in Japan right now, he would have eaten it in a restaurant already, so who am I to take that away from him!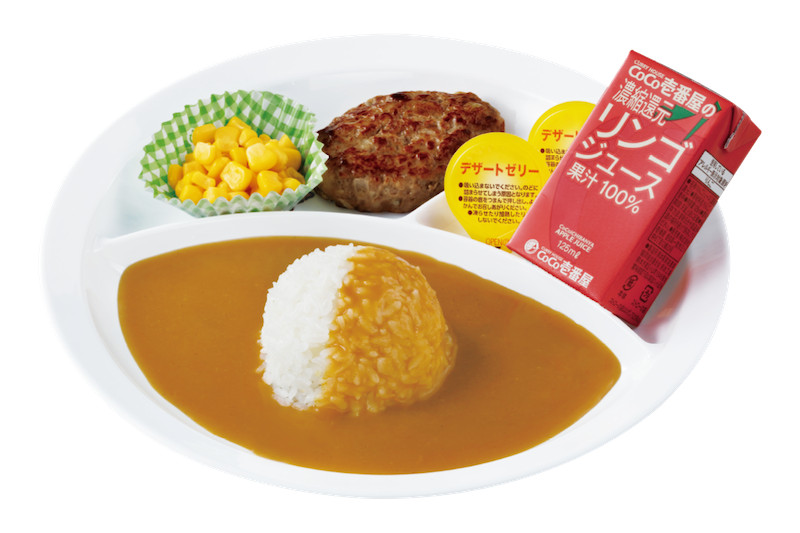 So I make it every now and again and we all eat together.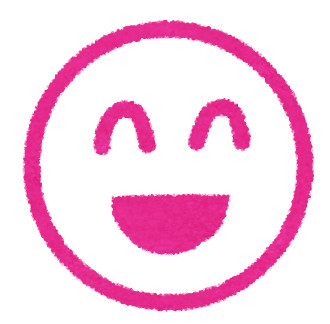 ---
How Do You Eat It?
Think of it as a sauce which you can have it with whatever you want.
There are SO many ways it's eaten but I would say the most common ways it's served in Japan are:
カレーライス 'Kare Raisu' Curry Rice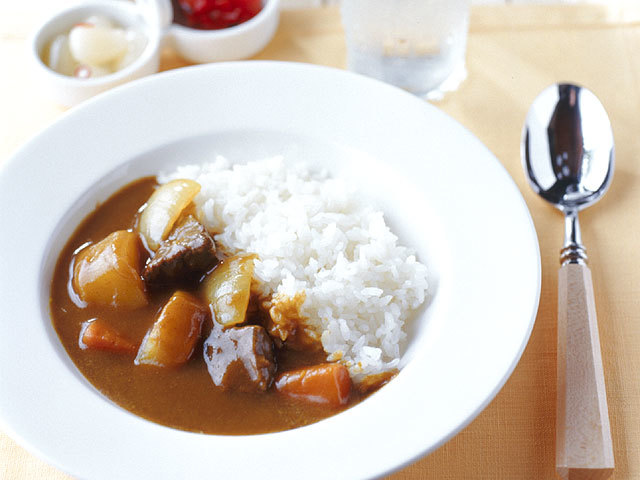 かつカレー 'Katsu Kare' Katsu Curry Rice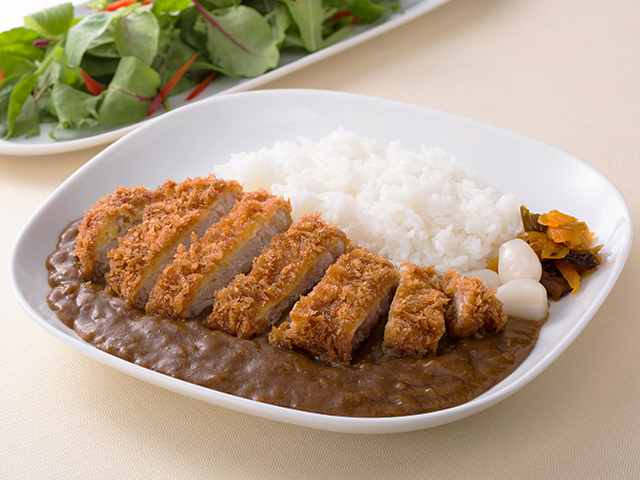 カレーうどん 'Kare Udon' Curry Udon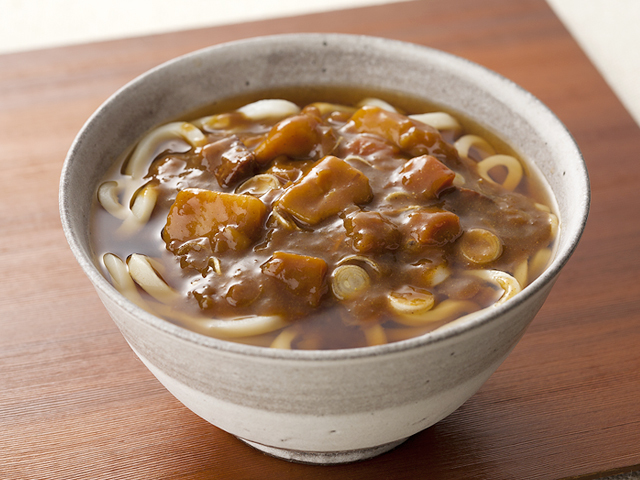 I talk more about Udon Noodles and how to eat them in my 'Ketchup Udon' recipe here.
---
Where Can I Buy Japanese Curry?
I'd like to say in most local supermarkets but it's not sold everywhere… yet, but I've seen these two sold in Waitrose and on Ocado: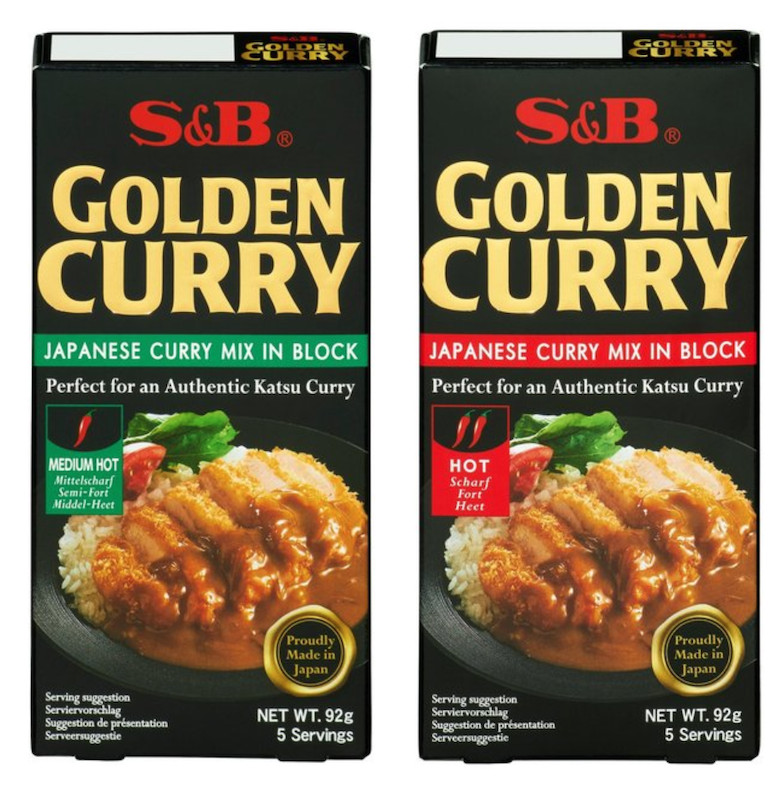 And these on Amazon:


But fear not, you can buy a decent variety of Japanese curry cubes in Japanese and Oriental supermarkets – look out for the brands 'S&B' and 'House'.
The ingredients and instructions will be in English.

Here are the places I shop in London but some of them may deliver further out:
Japan Centre
TK Trading
Simply Oriental Foods
Rice Wine (website is in Japanese only but you can pop into the store to buy the curry)
---
Customise It!
There are instructions on how to make the curry with the classic ingredients, (usually chicken, carrot and potato) on the box BUT the beauty about this curry is that you can customise how you want.
In Japan, every household makes it differently:
• My mum puts chicken thigh cubes and loads of vegetables and rest the whole pot in the oven overnight

• My friend's mum puts seafood, potato and serves it straight up

• I like to put 100ml less water than the instructions say, so the sauce is even thicker, and pack it with lots of vegetables
You can put any vegetable, any protein, make it more soupy or extra thick, whatever you want!
Once you start to make it, you'll see where you can customise for next time.
---
Leftovers
For some reason, Japanese curry tastes even better the next day but you can also freeze it or I like to have it the next day with udon noodle, spaghetti or even poured over well-done wholemeal toast!
---
And Now For My Customised Japanese Curry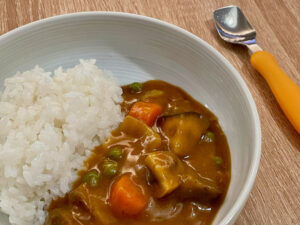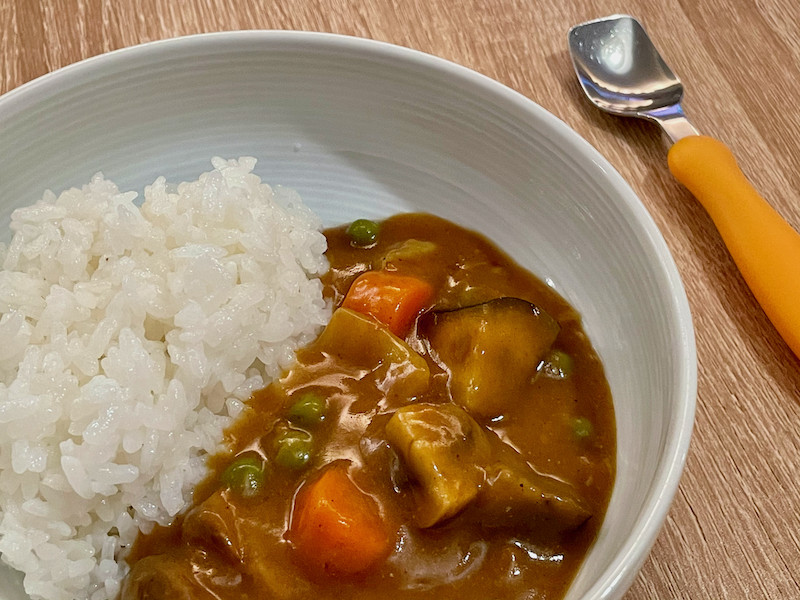 Japanese Curry for The Whole Family (1 Year+)
Super easy, mild Japanese curry. Toddler friendly and can be made spicier for adults.
Ingredients
1

Pack of 220g

Japanese Curry Cubes

1

Large Onion

Or more because you can't put enough!

1

Large Carrot or 2 Small

1

Aubergine

Handful of

Mushrooms

I like to use Chestnut Mushrooms

50

g

Frozen Peas

Handful of

Frozen Prawns

Or fresh prawns

1100

ml

Water

The box says 1200 but I use 1100 for a thicker sauce

1

tbsp

Oil for frying

I like to use Sunflower or Rapeseed

1

tbsp

Oil for coating the aubergine
Optional
Dollop of

Plain/Greek yogurt for toddler

Sprinkle of

Cayenne Pepper for older kids and adults to spice it up
Instructions
Prep
Cut all of the vegetables into bite size chunks or smaller if you prefer

Put the aubergine in a large bowl, toss in some oil, cover and microwave for 2mins. Set aside

De-vein the prawns and cut up smaller if you prefer

Open the pack of curry, break up the cubes and set aside
Lets Get Cooking!
Heat the oil in a large pan or wok and fry the onions on a low heat for about 5mins

Once the onions have some colour, turn the heat up to medium, add the carrots and mushrooms and fry for a further 5mins

Push the vegetables aside in the pan and fry the prawns until they start to go pink

Add the water, turn the heat to high, put the lid on and bring to the boil

Switch the heat to low and simmer for 10-15mins or until the vegetables are cooked to your liking

Add the curry cubes, aubergine and frozen peas. Simmer for about 5mins, constantly mixing until the cubes have completely dissolved. You'll see the sauce get thicker and thicker

If you think the sauce is too thick, add more water a little at a time, mixing constantly

Serve with rice, udon, anything you want!
Optional
After it's done, put the lid on and place the whole pan in an unheated oven for up to 1 hour. This will deepen the flavour and make the onions lovely and melty
Notes
 By tossing the aubergine in oil and microwaving first, it prevents them from breaking down once cooked in the curry and will keep its firmness. I add them towards the end so they don't get overcooked. If you want them really soft, skip the microwave step and add them in Step 2 with the other vegetables.
Japanese curry often tastes even better the next day so you could make it a day in advance of when you plan to eat. Perfect if you have a busy day ahead!
Storage: This can be frozen as soon as it has cooled down. Consume within 3 months.
Tailor the dish for your baby or for adults:
For younger babies – When serving, don't scoop too much sauce. Just pick out the vegetables, which will be well coated in sauce and cut them into smaller pieces. Add a dollop of plain/greek yogurt (start with 1tsp) and the rice and mix altogether. This will create a creamer, milder taste.
For a spicier version – sprinkle on some Cayenne Pepper and it'll taste just like the Medium Hot version of the curry.
Make it Vegetarian – Leave out the prawns and add more vegetables like courgette, sweetcorn, anything you want!
---
Some Variations
With boiled egg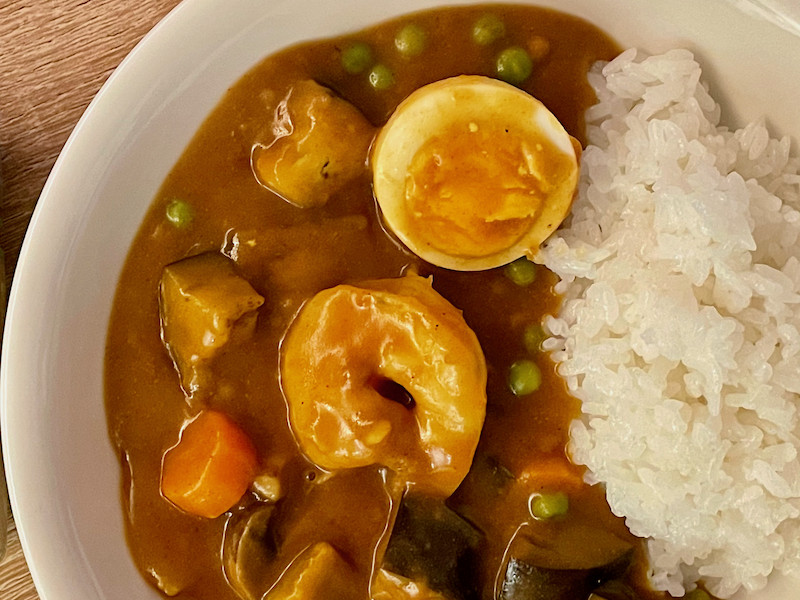 With Cayenne Pepper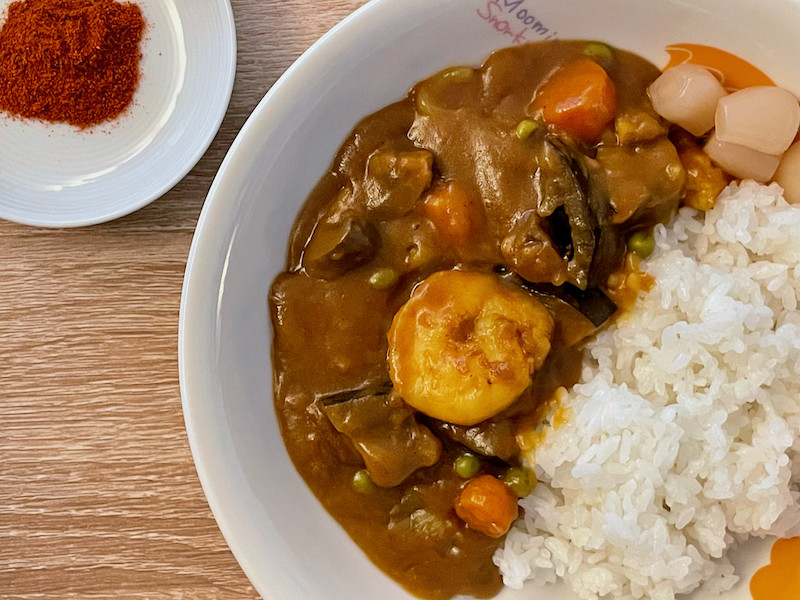 With Fish Fingers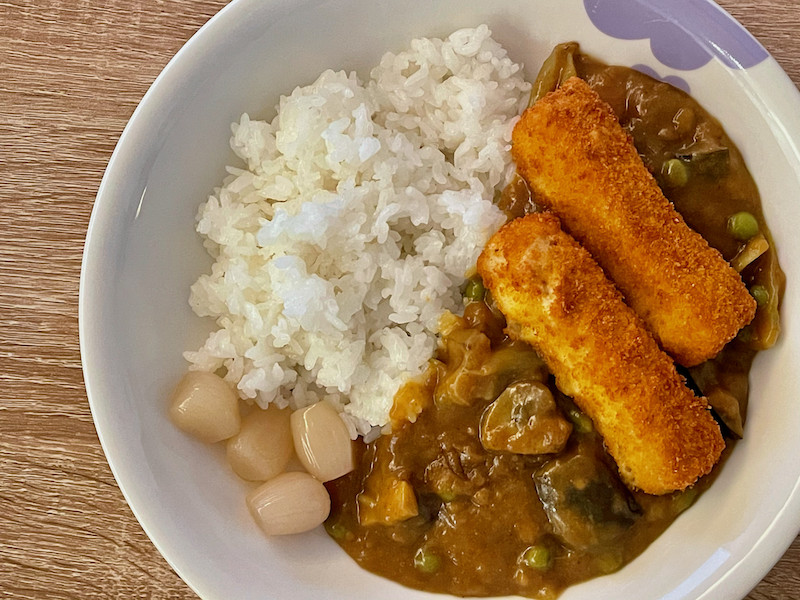 ---
Give It A Try
If you give this recipe a go, let me know how it went in the comments below!

Here's Jin enjoying the dish!
---
As an Amazon Associate, I may earn from qualifying purchases made via my website. Thank you for your support!