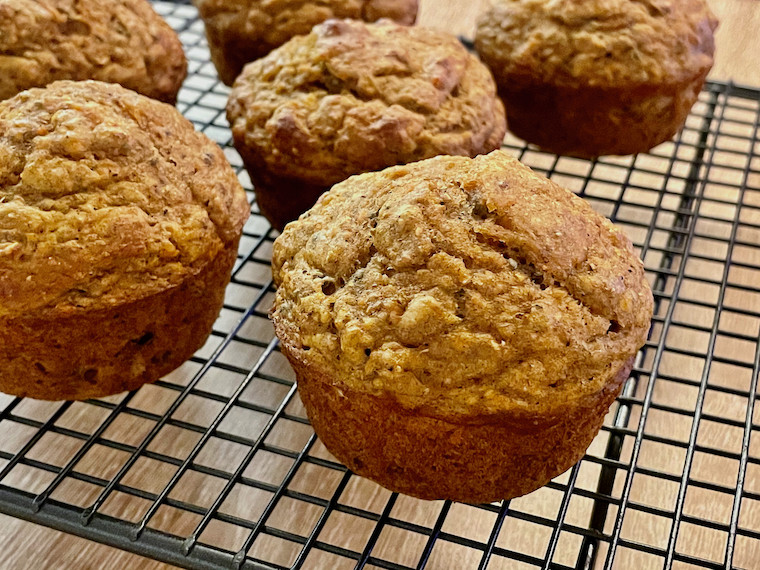 Following my blog post on the yummy 'Smash Cake With Blueberry Whipped Cream', the no sugar no butter cake inspired me to create my 'Banana, Carrot & Chia Seed Muffins'.

Now that Jin's a toddler, he's long graduated the super soft mini muffins I used to make and is now biting into something more substantial!
---
Introducing Sweetness To Toddlers Without Refined Sugar
I'm used to making completely sugar free muffins suitable for 6 months+, which Jin loved but now he's a toddler, his taste buds have developed more and he's ready to explore 'sweet'.
Having said that, I'm not quite ready to give him full-on refined sugar baked goods! With these muffins, I can choose to drizzle in some maple syrup (or not), and it makes a nice introduction to sweetness.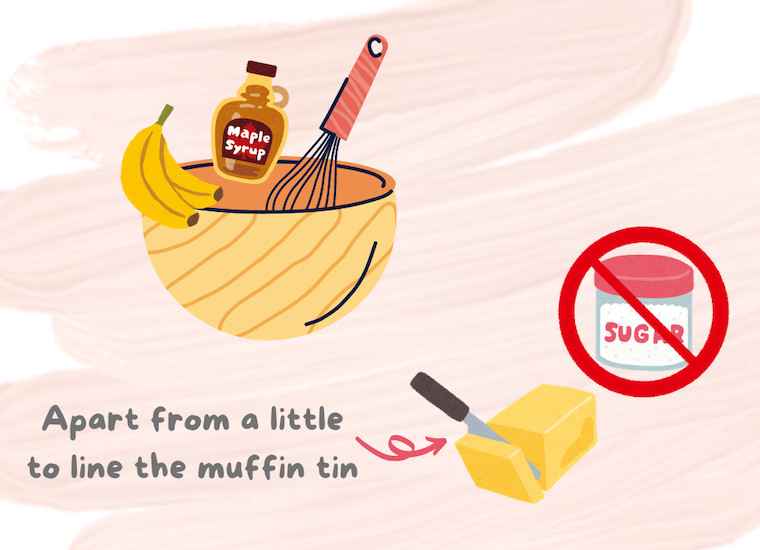 ---
A Boost Of Nutrients

I threw in some Chia Seeds for extra nutrients but you could also use Flax Seeds.
They have similar nutritional values but with some differences:

– Chia seeds are higher in fibre
– Flax Seeds are higher in Omega3
You can read more details about the two seeds here.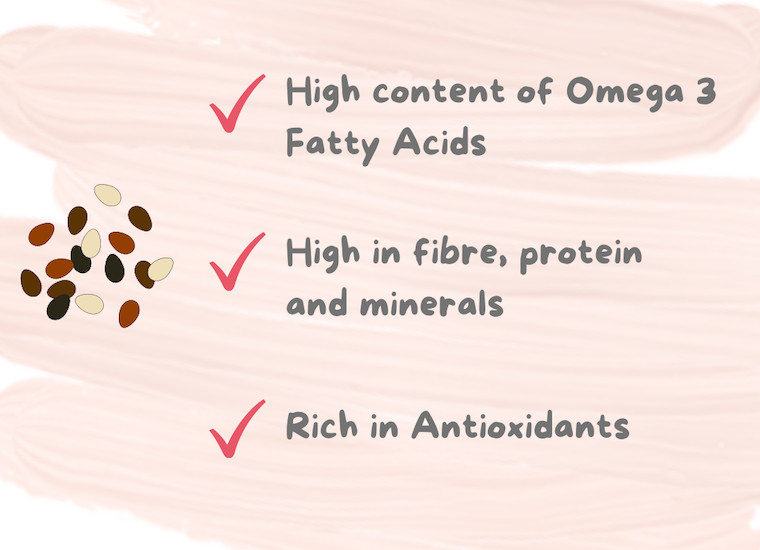 ---
Freezer Stock For A Hungry Toddler
Jin is a HUNGRY boy but he can be a little unpredictable in terms of appetite.
That's why I like to always have a few of these muffins in the freezer so when he's finished running around like a maniac and suddenly wants a snack, I can heat one of these up in less than a minute. SO convenient!
The fact that they contain a vegetable, a fruit and nutritional seeds is a bonus!
So here we are, my 'Banana, Carrot & Chia Seed Muffins'.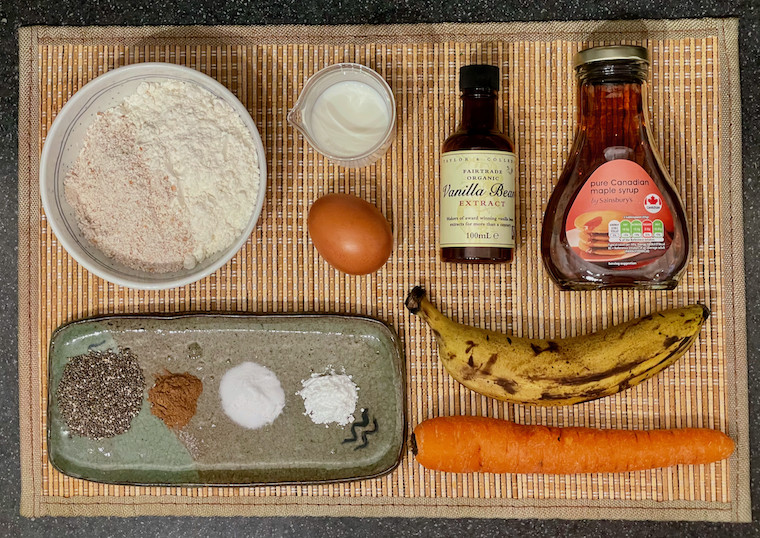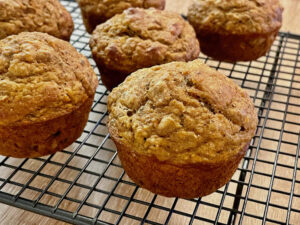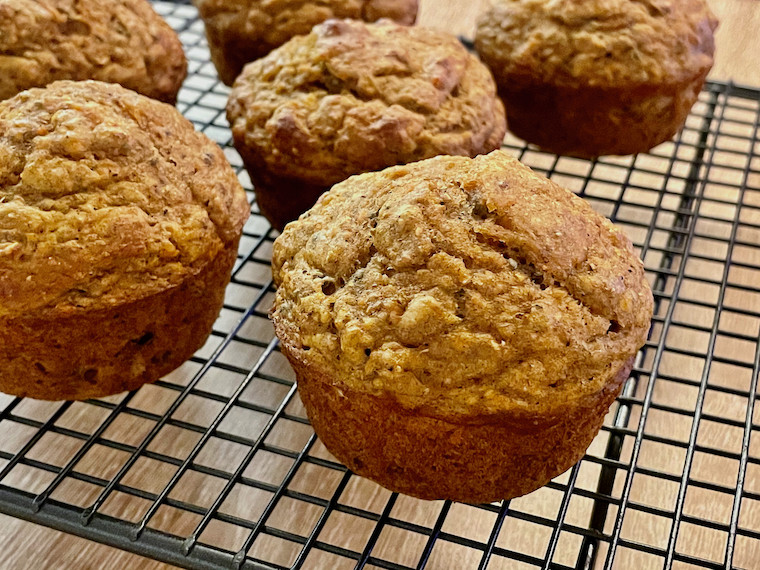 Banana, Carrot & Chia Seed Muffins (1 Year+)
Healthy and delicious muffins, perfect to stock in the freezer and take out on-the-go.
Ingredients
★ 65

g

Wholemeal Flour

★ 65

g

Plain Flour

★ 1

tbsp

Chia Seeds

★ 1

tsp

Baking Powder

★ 1

tsp

Baking Soda

★ 1/2

tsp

Cinnamon

★

Sprinkle of Salt

1

Large Banana / 2 Small

Very ripe

1

Large Carrot / 2 Small

60

ml

Full Fat Milk

1

Egg

1

tsp

Vanilla Extract

The real deal, not vanilla flavouring
Optional
50

ml

Maple Syrup

Cube of

Unsalted Butter
Instructions
Peel and coarsely grate the carrot. Peel and break the banana into chunks

Cover and microwave the grated carrot for 2mins and cool

Line the muffin tin with the butter

Combine all the dry ingredients marked with ★ next to it in a large bowl. Set aside

Take the banana chunks, grated carrot, milk and optional maple syrup. Pop them in a blender and blend until almost smooth. I like to leave a bit of texture

Directly into the blender cup, drop in the egg and vanilla essence. Mix with the whisk

Pour the mixture into the bowl with the dry ingredients in 3 parts, mixing as little as possible (otherwise the muffins will become heavy)

Spoon the mixture into a muffin tray, about 3/4 full. I usually get 7 muffins from this

Bake in the oven for 20mins

Take the tray out of the oven and rest the muffins in there for 5min. Then transfer the muffins onto a cooling rack for a few more mins
Notes
Muffin Cases VS Butter Lined Tin: If you prefer not to use butter, place muffin cases into the tin, then  pour in the mixture.
Storage: Make sure the muffins have completely cooled down, then store in an air tight container or freeze in a tupperware or sealed bag.
Consume within 3 months.
Heat Up:  Microwave for 40-50 seconds.
Make It Sweeter For Older Kids and Adults –  Add the Optional 50ml of maple syrup or even up to 70ml for a sweeter taste.
---
Give It A Try
If you give this recipe a try, let me know how it turned out in the comments below!
Here's Jin munching on his usual snack muffin.