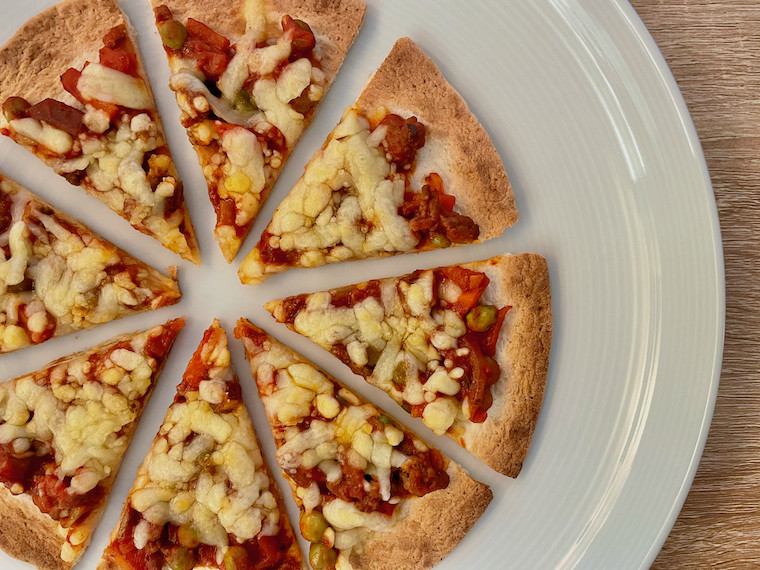 Who invented Tortilla Pizza?? I have no idea but someone needs to give them a medal!
I first discovered it at a pizza restaurant in Japan. At first I thought, "Wow, what's this diet version of a pizza??" but then after tasting it, I took all that back. The thin crispy base with the delicious toppings, it just goes so well without being stodgy or heavy at all!
---
Quick & Easy
I can make this tortilla pizza in minutes because I often have little portions of my 'Meat Sauce That Goes With Anything' for Jin in the freezer. I just re-heat the sauce, pile it on the tortilla with some cheese and it's done! The sauce is packed with protein and vegetables, so the pizza can serve as nutritious main meal.
Jin loves the crunch so I make it extra crispy around the edges.
---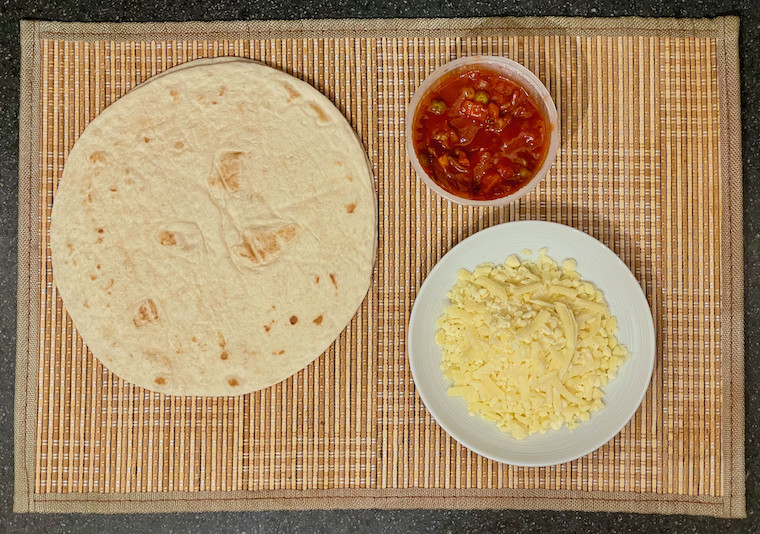 ---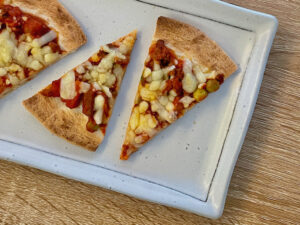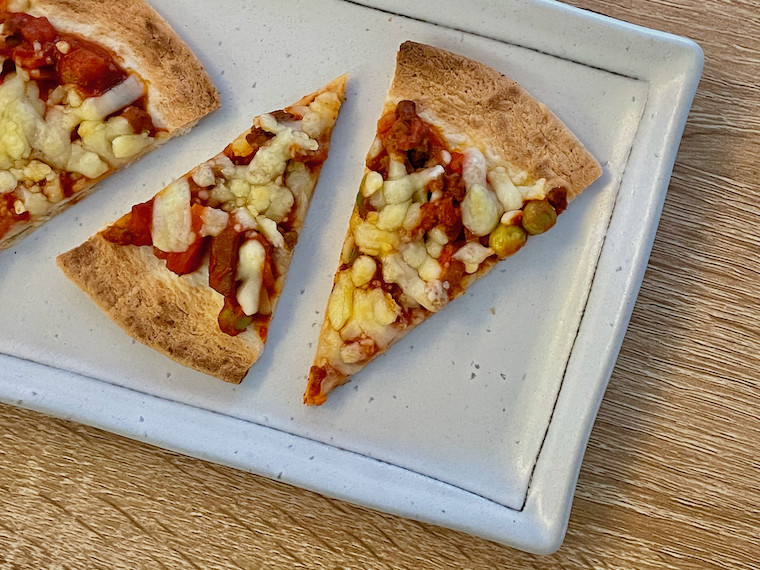 Crispy Tortilla Pizza (1 Year+)
Using my 'Meat Sauce That Goes With Anything' recipe, prepare this light, thin and crispy Tortilla Pizza in minutes!
Note: This uses a previously prepared sauce. The time will be longer if you are making sauce right now.
Ingredients
2-3

tbsp

My 'Meat Sauce That Goes With Everything' * Recipe Link Below

1

Small Tortilla Wrap

1-2

tbsp

Grated Cheddar Cheese
* My Recipe for 'Meat Sauce That Goes With Anything'
We like the edges really crispy but you can have it less so by reducing the grill time
Instructions
Prep
Heat up the meat sauce and set aside to cool (I'm using a portion from my freezer)

Set the grill to High or 250°C
Lets Get Cooking!
Place the tortilla directly onto the shelf and grill on one side until it starts to brown, about 1½-2mins

Take the tortilla out of the grill and cool on a rack for up to 1min (anything that allows air to both sides). You want the tortilla to lose it's flexibility

Turn the tortilla over so the un-grilled side is facing up. Spoon the meat sauce on, spreading evenly, almost to the edges

Sprinkle the cheese on – a thin layer for little ones, as much as you want for adults!

Place the tortilla onto a baking tray and pop back into the grill for about 2mins until the cheese is bubbling and browning
Serve!
Serve on its own, with dips like guacamole and sour cream, or with sides
Notes
The key is not to overload the tortilla too much with the sauce and toppings, otherwise it'll be heavy and soggy in the centre.

Tailor this dish for your baby or for adults:


For Toddlers – If you want the tortilla less crispy, grill for slightly less time in Steps 1 and 5
Spice it up – Sprinkle some Hot Smoked Paprika or drizzle Sriracha
Add Toppings – When serving, pile on some fresh rocket or baby leaf spinach
Make it Vegetarian – Use a vegetarian tomato sauce of your choice
---
Give It A Try
If you give this Crispy Tortilla Pizza a try, let me know how it went with in the comments below!
Here's Jin loving his pizza 🙂