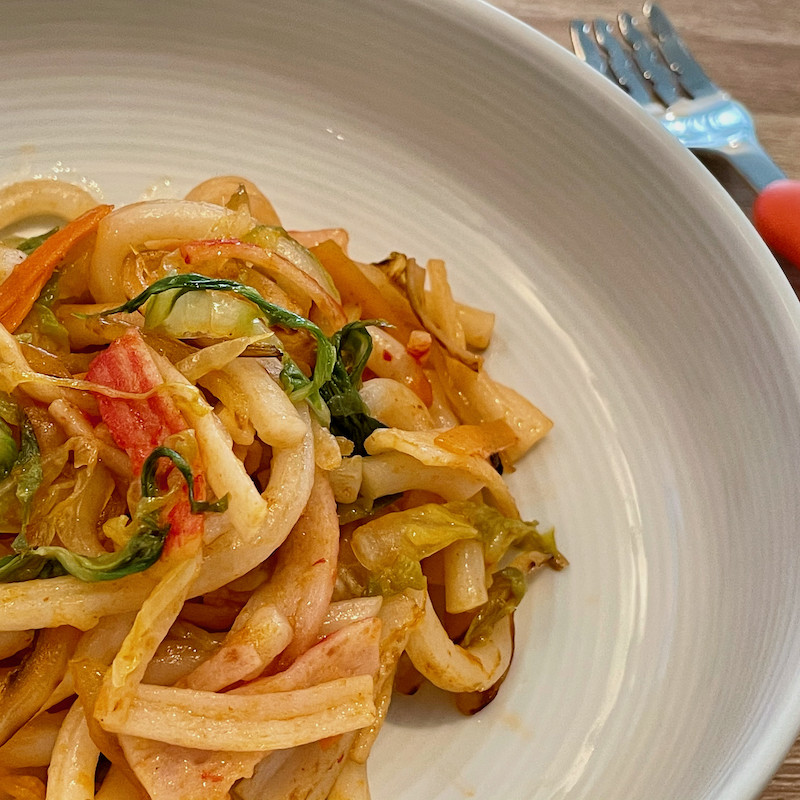 In Japan, Ketchup Udon Noodles, aka 'Napolitan Udon' ナポリタンうどん is a dish found on the kids' menu, adults' menu and in home cooking.
Udon Noodles are really versatile and great for babies and toddlers because they're soft, chunky and easy to eat.
When Jin was in his weaning phase, I chopped the udon up into little pieces and stewed it until it was really soft but once he turned 1 year, I was able to make him all sorts of udon dishes like fried udon and soup udon but this is his favourite my Ketchup Udon Noodles for 1 year+.
Enjoy!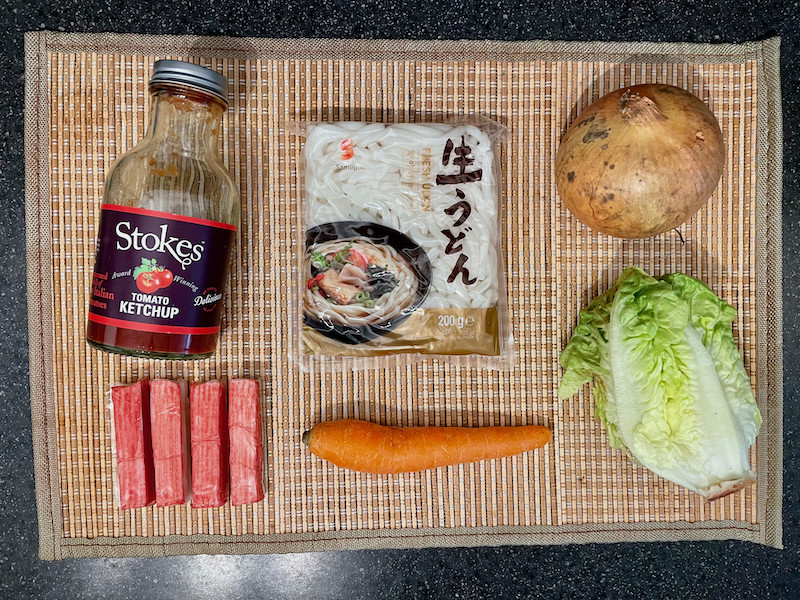 ---
What Are Udon Noodles
Udon うどん is a soft, thick wheat noodle, basically made from flour, water and salt.
There are many brands out there so be sure to check the ingredients label. Some are literally made from just these 3 ingredients but others have some additions.
---
How Do You Eat It
It's such a simple noodle but massively versatile. It can be eaten hot, cold, in soup, fried, stewed or even mash it up and create something new!

There are honestly SO MANY dishes for udon but I would say the most common ways it's served in Japan are:
Kake Udon かけうどん
Served in a warm fish broth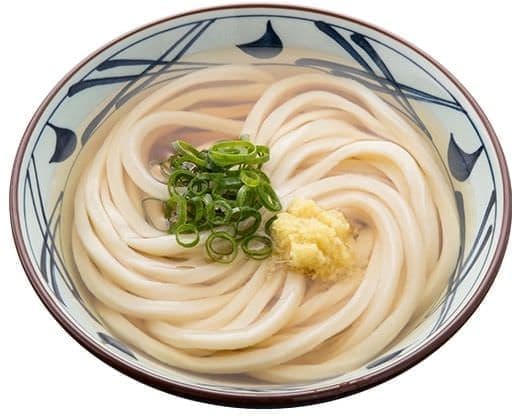 Zaru Udon ざるうどん
Served cold and eaten by dipping in a sauce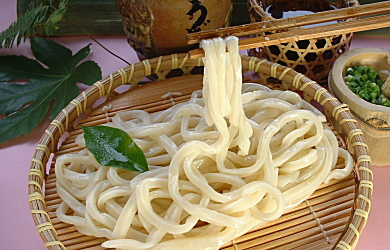 Yaki Udon 焼うどん
Fried with meat/seafood and vegetables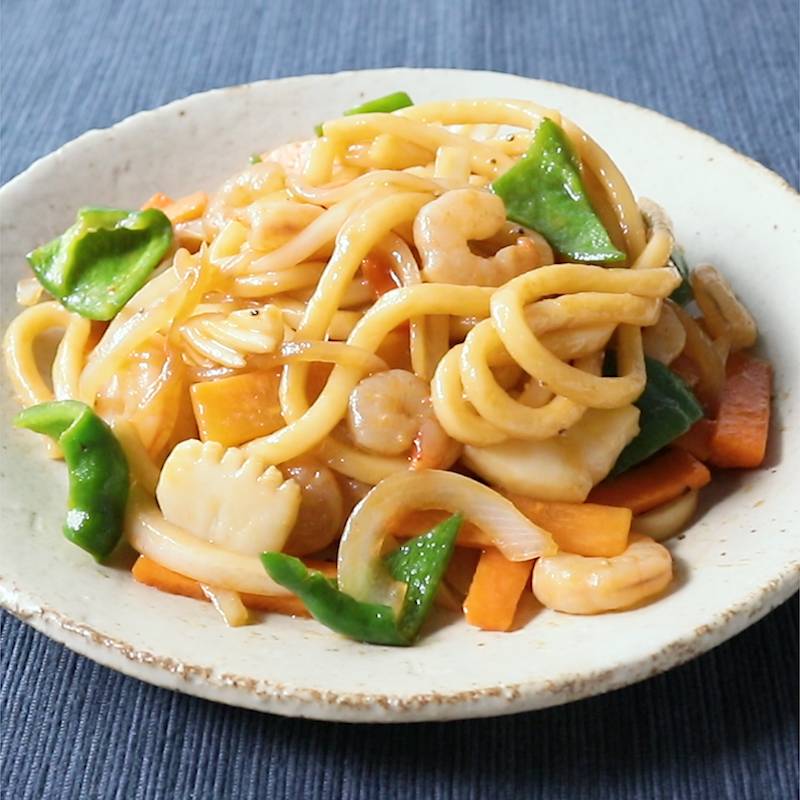 ---
Where Can I Buy Udon Noodles
I used to only be able to find udon in Japanese and oriental supermarkets but over the years, I'm so pleased to see that local UK supermarkets have started selling them in their 'World' sections.
I found these at Sainsbury's: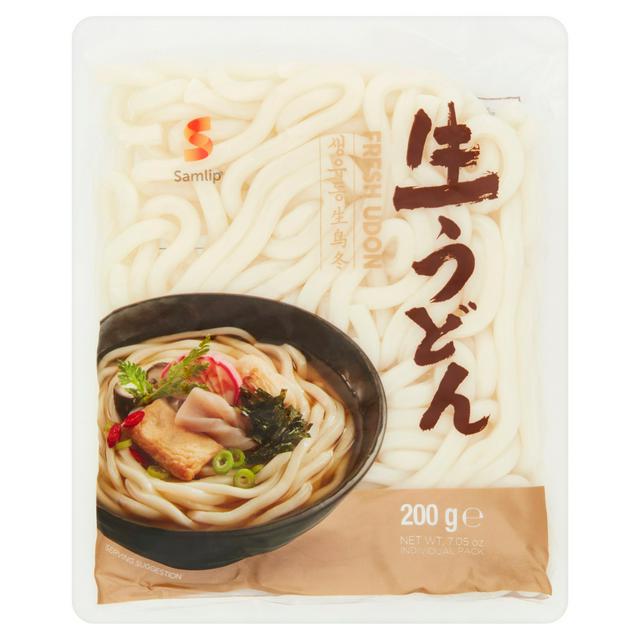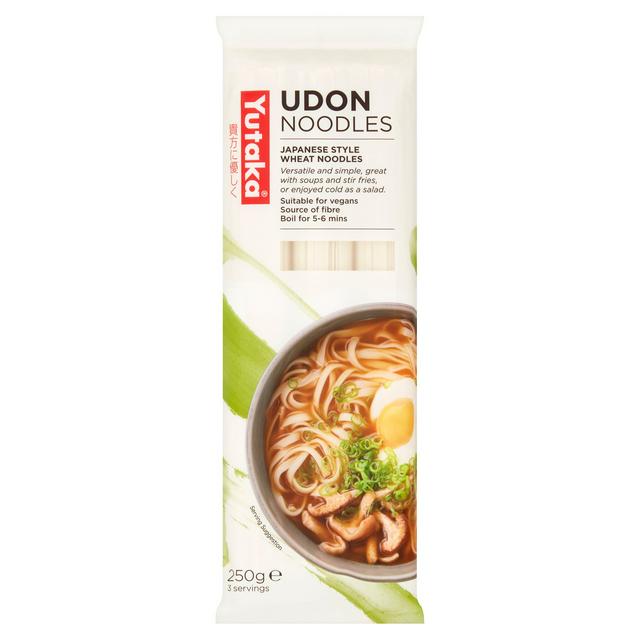 ---
Available Fresh Or Dried
You can buy it in fresh and dry form, just like pasta. When I say 'fresh', it's like the type you see in the fresh pasta aisle in supermarkets, which is much faster to cook than the dry version.
I always have stock of the fresh packs in the cupboard because they're perfect for super quick meals. This dry version from Yutaka is good too, a reputable manufacturer, but they're thinner, flatter and have a slightly firmer texture than the fresh ones so I use those for soup udon.
---
And Now For the Ketchup Udon Recipe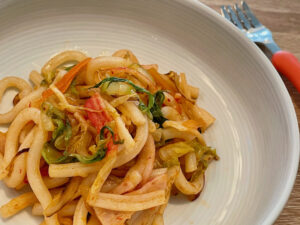 Ketchup Udon Noodles With Seafood Sticks and Veggies (1 Year+)
This dish is a great way to pack a meal with vegetables and protein. My boy loves this so I batch cook it often.
Ingredients
1

Pack

Udon Noodles

Vacuum pack containing fresh udon

4

Seafood Sticks

1

Carrot

About 30g

1

Small Onion

About 60g

5

Little Gem Leaves

About 60g

1

tbsp

Oil

Rapeseed/Sunflower or similar

2

tbsp

Water

1

tbsp

Ketchup

I use 'Stokes' because it has less sugar & salt
Optional:
1

Drizzle of Toasted Sesame Oil
Instructions
Prep:
Onion, carrot and lettuce – finely sliced/shredded/grated. Any shape as long as they're thin so quicker to cook

Seafood Sticks – cut in half, roll between your hands and separate into strips

Take the udon noodles out of the pack and cut into a grid of 8 (or more if you want the udon pieces smaller) and break the noodle up with your fingers
Lets Get Cooking!
In a large frying pan/wok, heat the oil and fry the onions on a low heat until they start to soften. About 4 mins. Putting the lid on and letting them steam a little helps to soften them

Add the carrot and fry for 2 mins with the lid on

Add the seafood sticks and lettuce and fry for about 2 mins

Add the udon and water. Turn the heat up to medium and put the lid of for 2 mins to let everything steam

Add the ketchup, mix well and serve!
Optional:
For more depth of flavour, add a drizzle of sesame oil at the end, mix and serve
Notes
Storage:
Can be frozen as soon as it has cooled down. Consume within 3 months.
Tailor the dish for your baby or for adults:

Keeping It Clean  – Don't fry the veggies with oil. Microwave them for 2 mins, add to the frying pan, then continue to follow the instructions. Instead of ketchup, use tomato puree with no salt or sugar.
For Adults – Add the sesame oil step at the end and a sprinkle of chilli powder/flakes for a kick.
Make it Vegetarian – Leave out the seafood sticks and add in some more vegetables like beansprouts, grated courgette, anything you want!
---
Give This Recipe A Try
If you try this recipe, I'd love to hear know how it turned out in the comments below!