At around 9 months old, Jin started showing an interest in scribbling…well by scribbling I mean grabbing the iPad from us and fiercely moving his index finger over everything again and again! lol
So we thought, it's time to explore the world of Toddlers' First Drawing Toys!
In this post I'll run you through our favourite products we used from the first signs of scribbling.
Feel free to jump to each of the products we used:
---
First Signs of Scribbling – The iPad
Jin must have got the idea from seeing us use the iPad because whenever he saw it, he would eagerly move his finger all over the screen. So we opened up this brilliant drawing app called Procreate by Savage Interactive Pty (IOS, £9.99).
We selected the pen type and colour and let him have at it. He had so much fun and eventually started using the Apple pencil, which was even better. So I guess this was the first of his drawing toys.
Of course I would say this as the mama but he's actually created some very artistic pieces lol.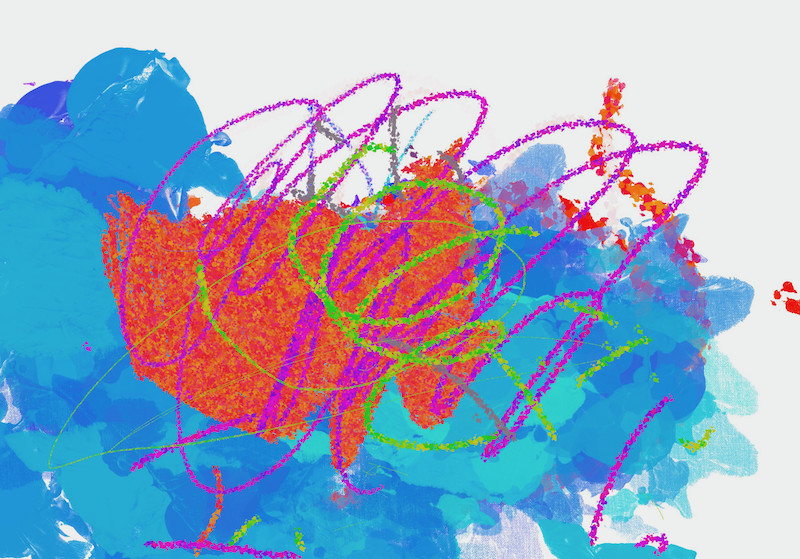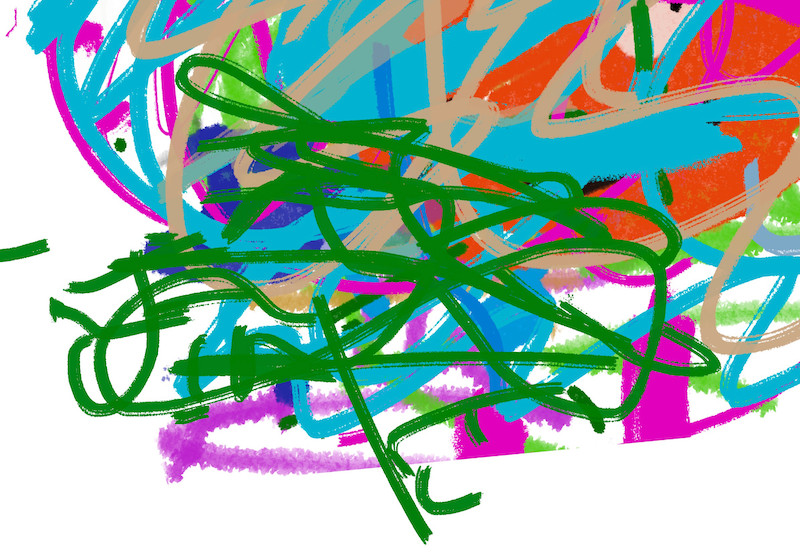 Free Drawing Apps
Procreate is a proper Pro tool so your toddler probably doesn't need it quite yet but here are a couple of other apps we've tried, which I also recommend.
Drawing Desk by 4 Axis Solutions

IOS and Android – Free
This one is great because you have the standard sketchpad with a variety of pens and a kids section with fun stickers and stamps. There are cute sound effects whenever you draw or put stickers down and it's just overall really fun to use!
As Jin grows, I can see us using this more by asking him to identify the duck or flower or getting him to repeat what they are.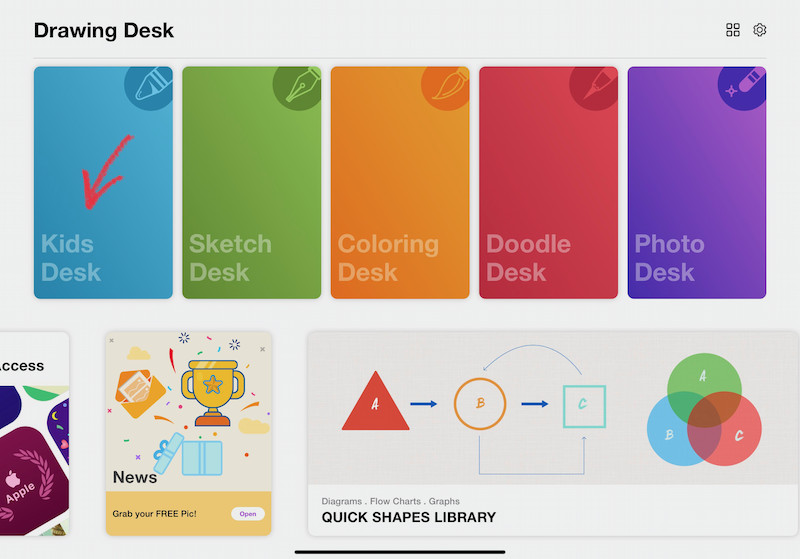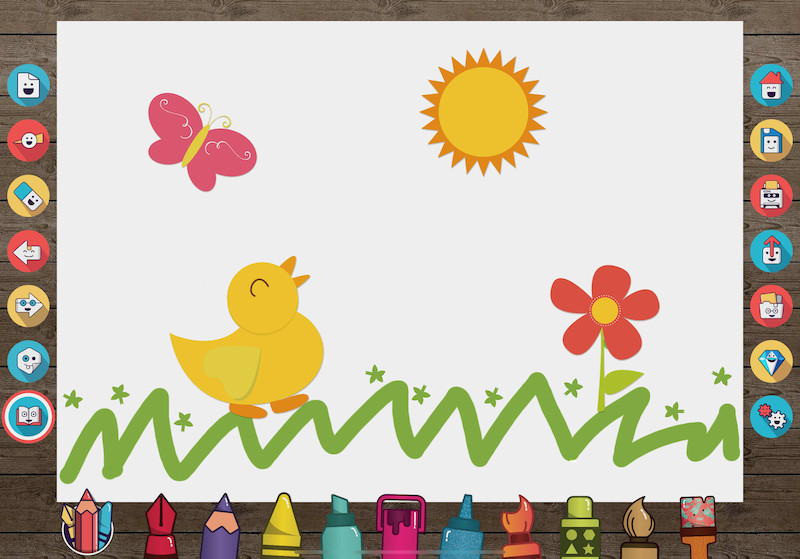 Tayasui Sketches by Tayasui

IOS and Android – Free

If you want a simple no-frills, open and go app, this one is great. There are a good range of brushes/pens and colours to play with and your little one can scribble away!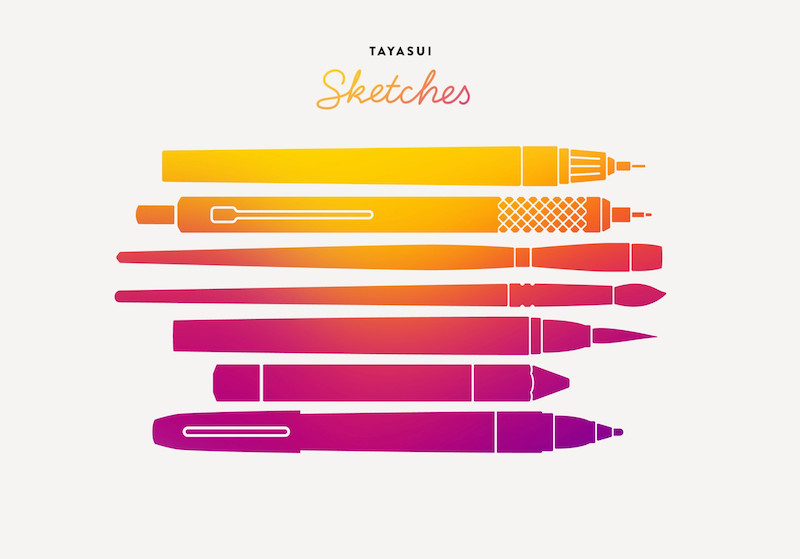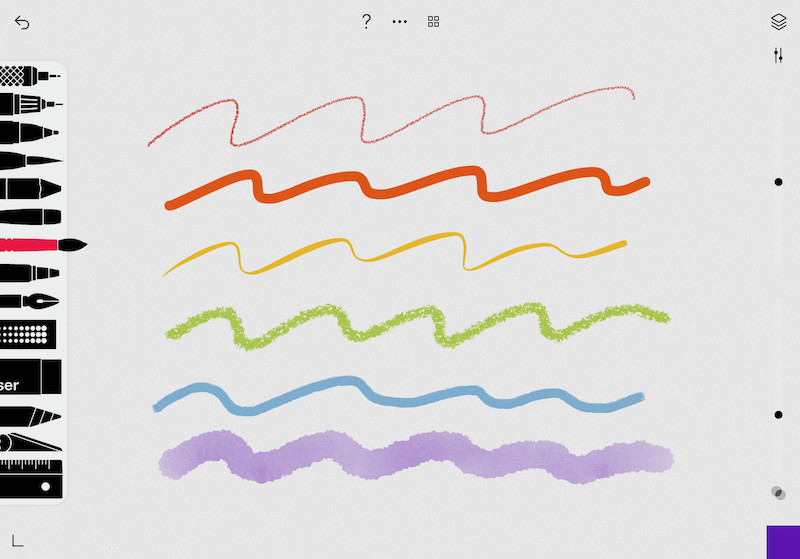 Tip
Get a screen protector for your iPad – there are some really good ones out there which are textured to feel like you're writing on paper! We use this one: Paper Like Screen Protector £12.99
---
Putting Pen To Paper
Once Jin was frequently drawing on the iPad, I got out my A3 sketchbook and we bought him some washable Crayola pens (we have a cream leather sofa so the washable part was a relief…) and he went nuts!
Of course, he spent most of the time putting the capped pens in his mouth, then figured out how to take the cap off and on and off and on…, then finally started scribbling away on the pad and on everything off the pad…
Crayola Ultra-Clean Washable Markers
£3.99 @Amazon
Product Link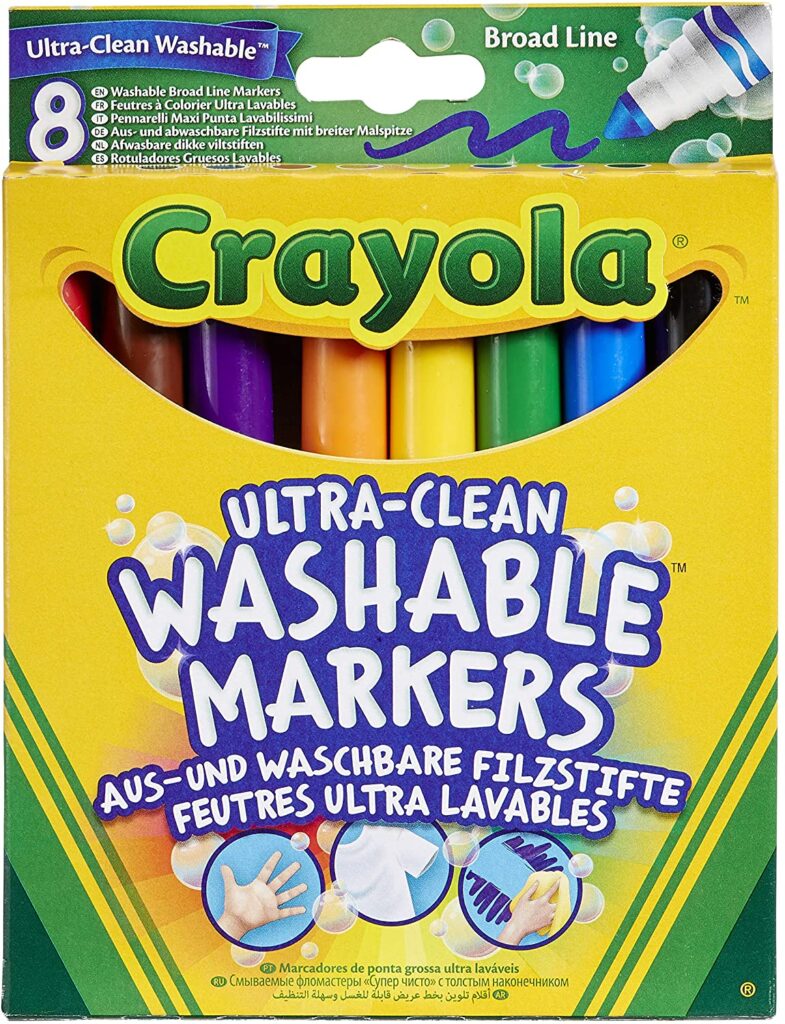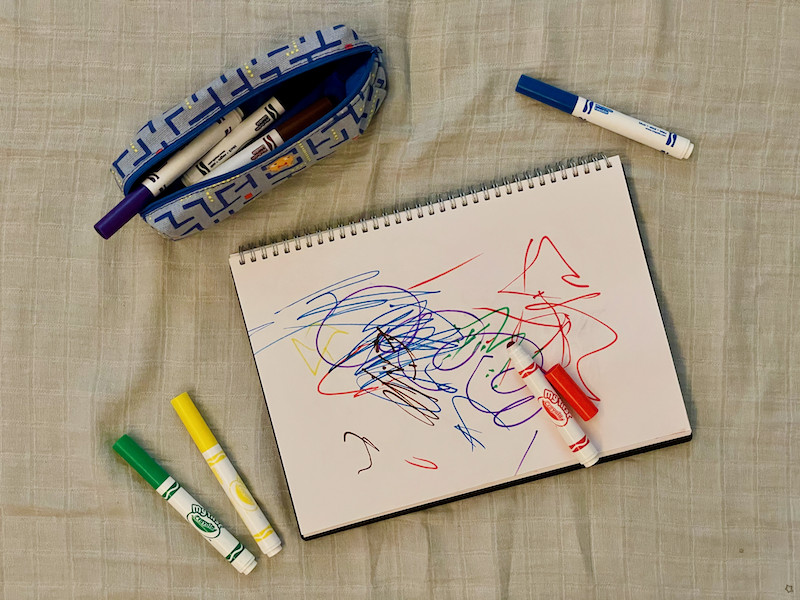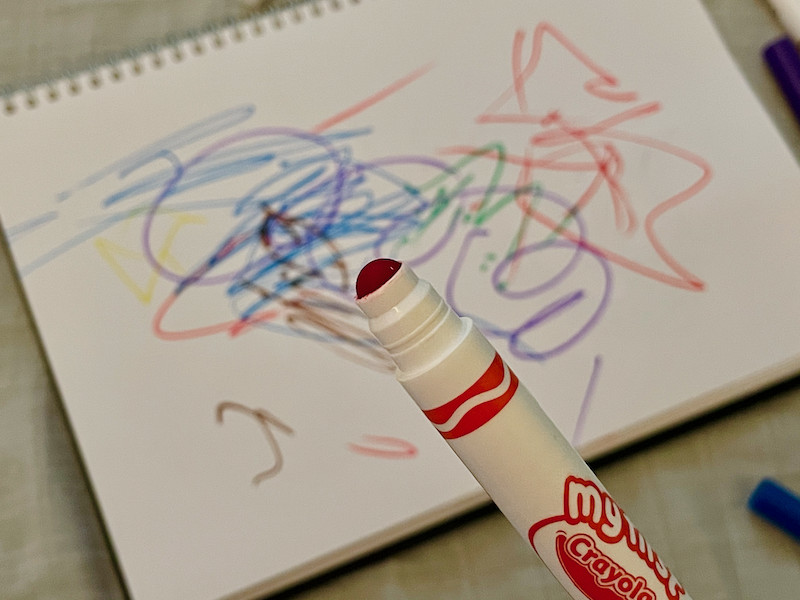 ---
Drawing On-The-Go
By 15 months, scribbling was a daily activity so we wanted Jin to continue enjoying it when we're out or on-the-go. But pens…with his flailing arms drawing on anything and everything… not a good idea.
Then we discovered the whole world of aqua drawing toys! The pens are simply filled with water which soaks the felt tip and when you draw on this magic surface, various colours appear! If you try and draw on anything else, nothing happens because it's just plain water. Perfect if you're freaking out about your little one drawing on absolutely everything in your home.
Tomy Aquadoodle Travel Drawing Bag
£15.59 @Amazon
Product Link
At 22x27cm and feather light, this drawing bag is perfect for taking out with you. It opens up to 2 pages and when you draw on them with the water pen, one side appears green and the other red. The pen is stored away in the elastic in the middle of the bag.
I found this really useful at restaurants to entertain Jin. We would connect the bag to the high chair with plastic links so it wouldn't fall to the floor.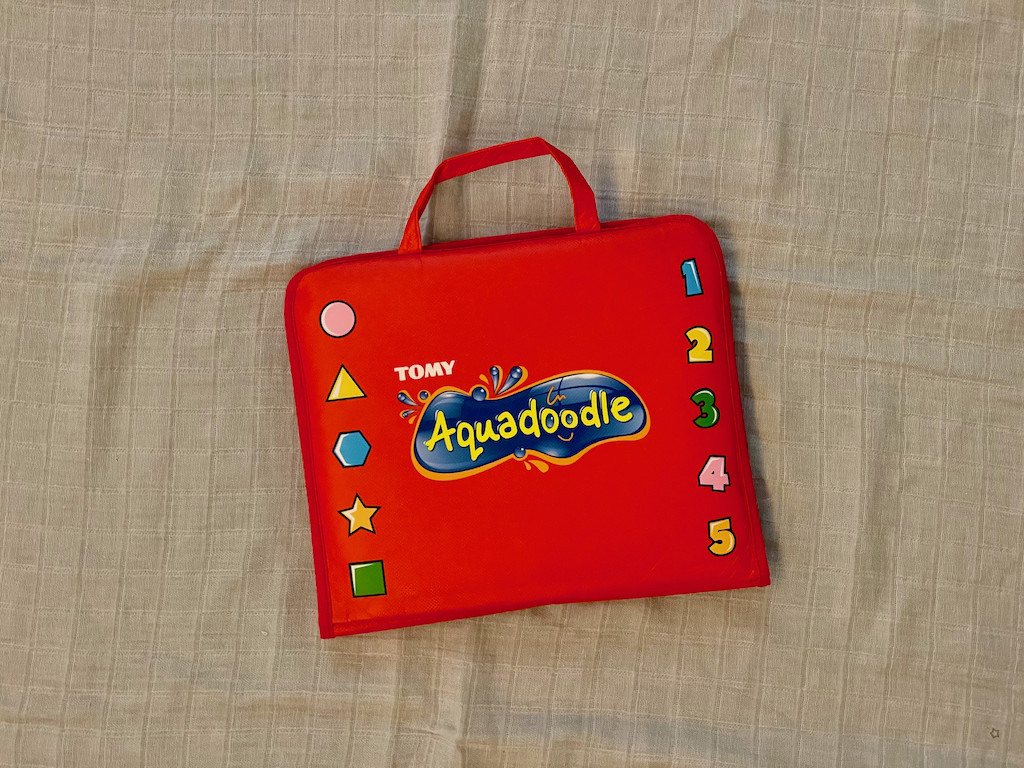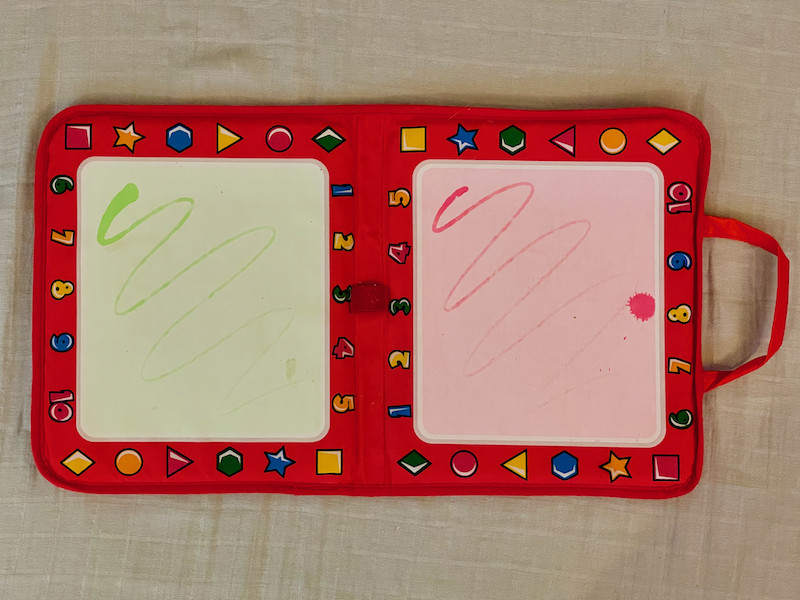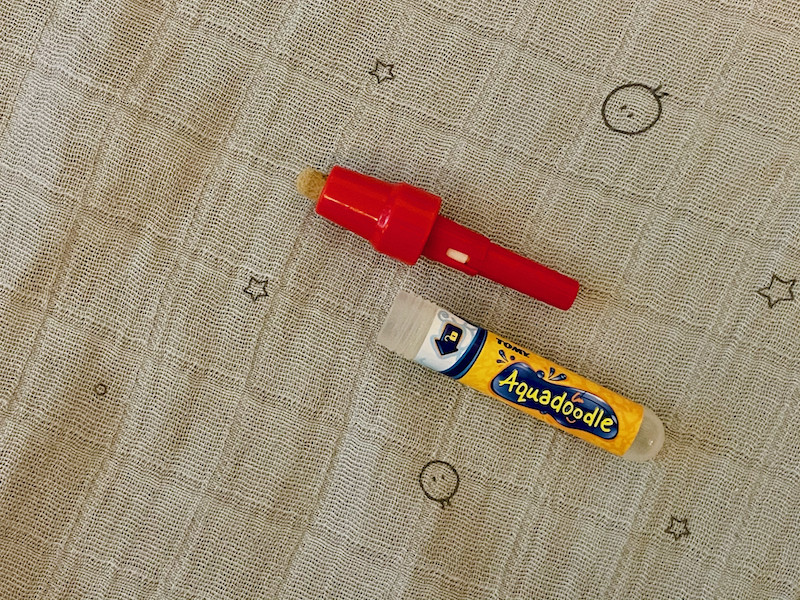 ---
A Larger Canvas for More Drawing!
The Aquadoodle bag was great but by 17 months, it looked like Jin could do with a larger canvas to draw on so we upgraded to this 70×100 aqua mat! There are so many out there so you don't have to limit yourself to the main brands, in fact, we chose this one from Amazon because it came with more accessories than the leading brands.
Vykor Large Water Drawing Mat
£16.99 @Amazon
Product Link
This one comes with:
6 different style pens
3 stamps
1 roller and pad
4 Stencils of letters and numbers
8 shapes to draw around
1 drawstring bag to store it all
At first I thought, do we need more drawing toys?? but all of this is actually really compact in the bag so it's perfect for taking with you to travel or a day out or storing away. It's large enough for several children to play and draw together.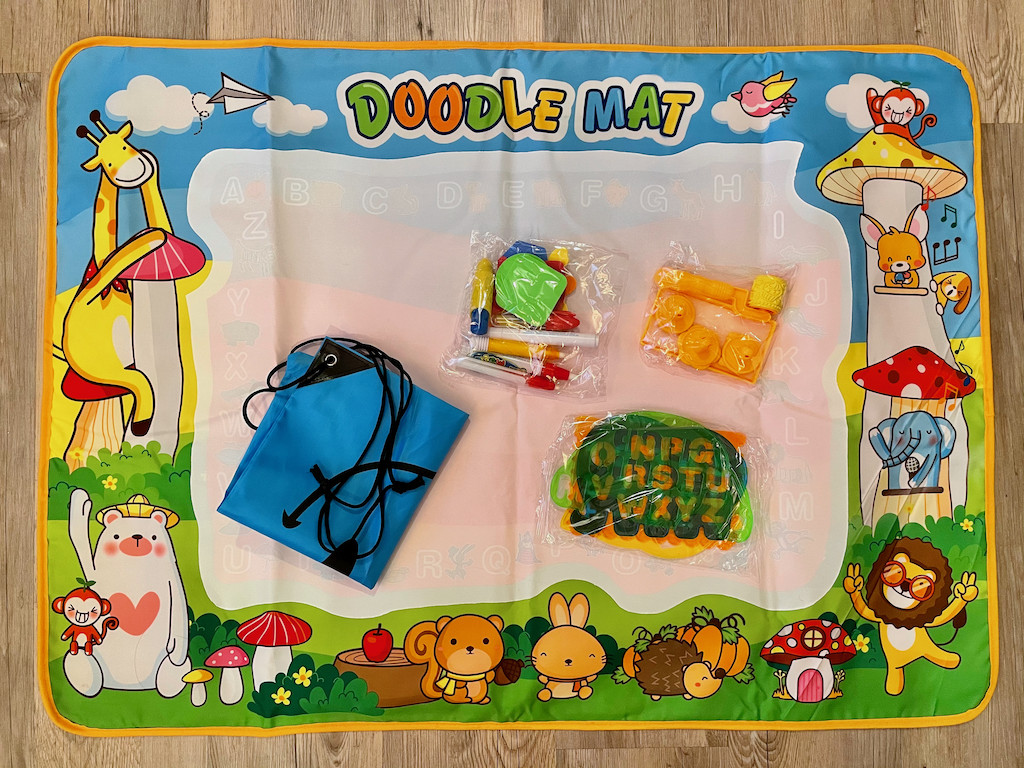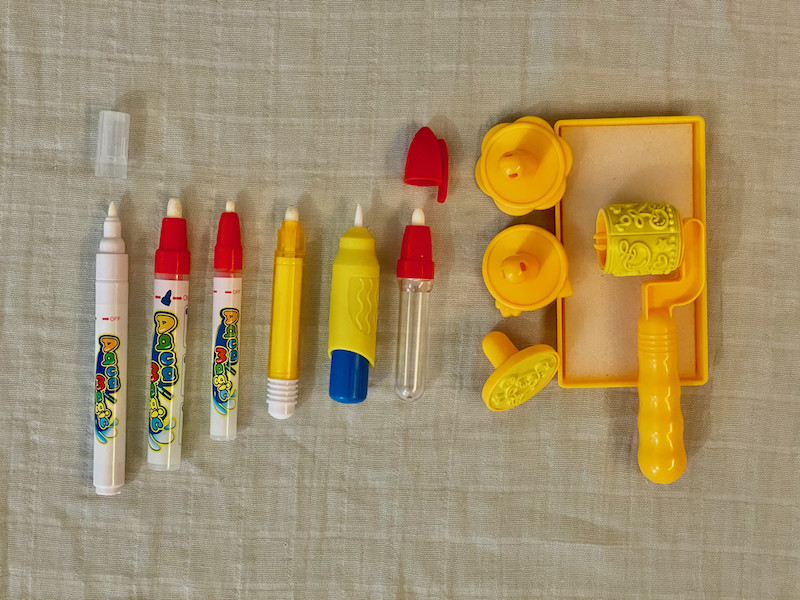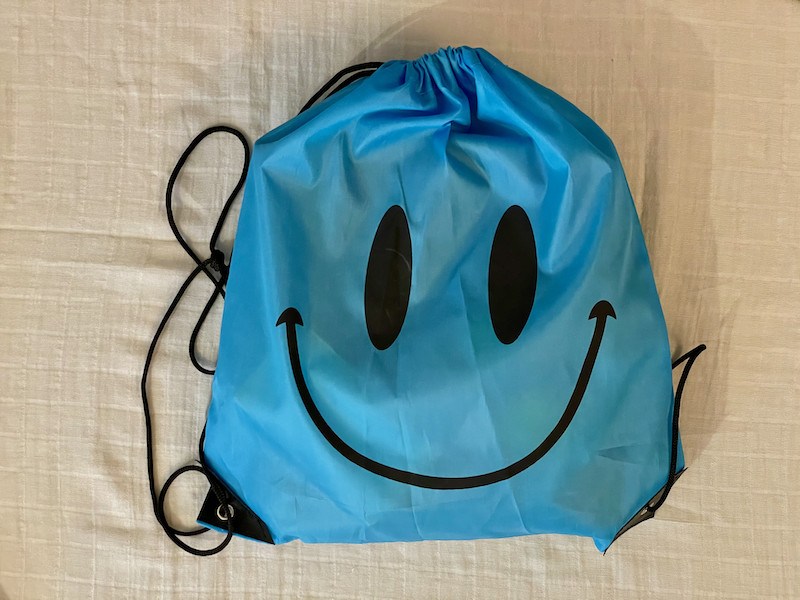 ---
The Classic Sketcher
And finally, to throw in something a little different from what he already has, we bought this sketcher, which takes me back to the magnetic sketcher I had as a kid with the big pixelated board but this one is a lot finer and smoother.
Tomy MegaSketcher
£16 @Argos
Product Link
This one measures 33x43cm and is quite heavy at 965g but that's probably a good thing so the board doesn't slide around when they draw on it.
It comes with 4 magnetic stamps and the pen is connected to the board with string.
The handle makes is convenient to carry around and although it's bulky, if your little one takes to it then it's worth taking out with you.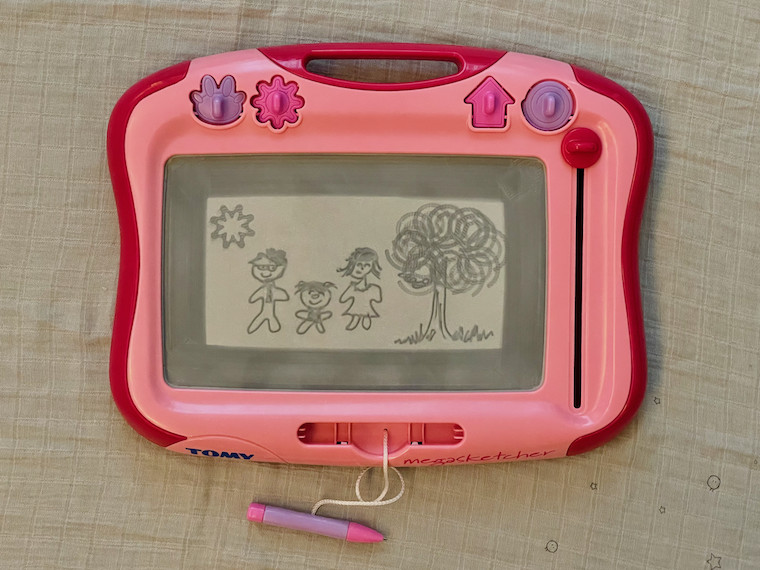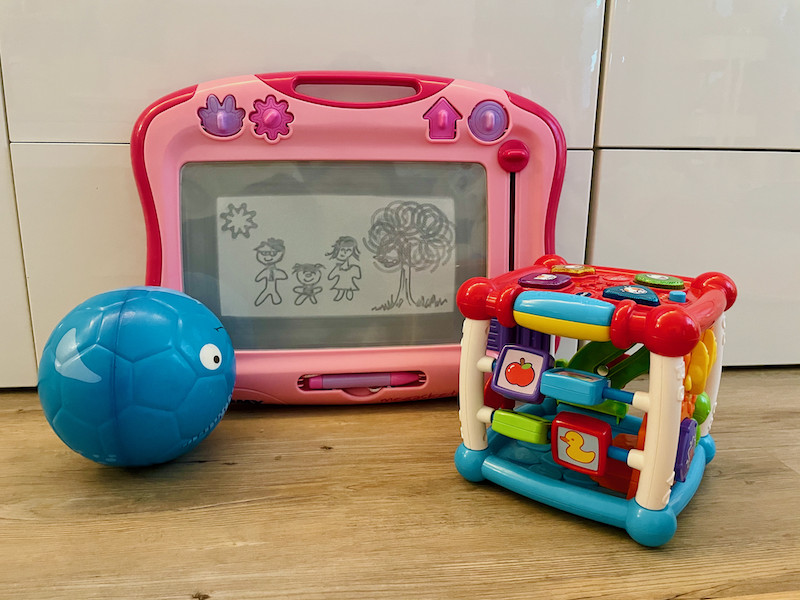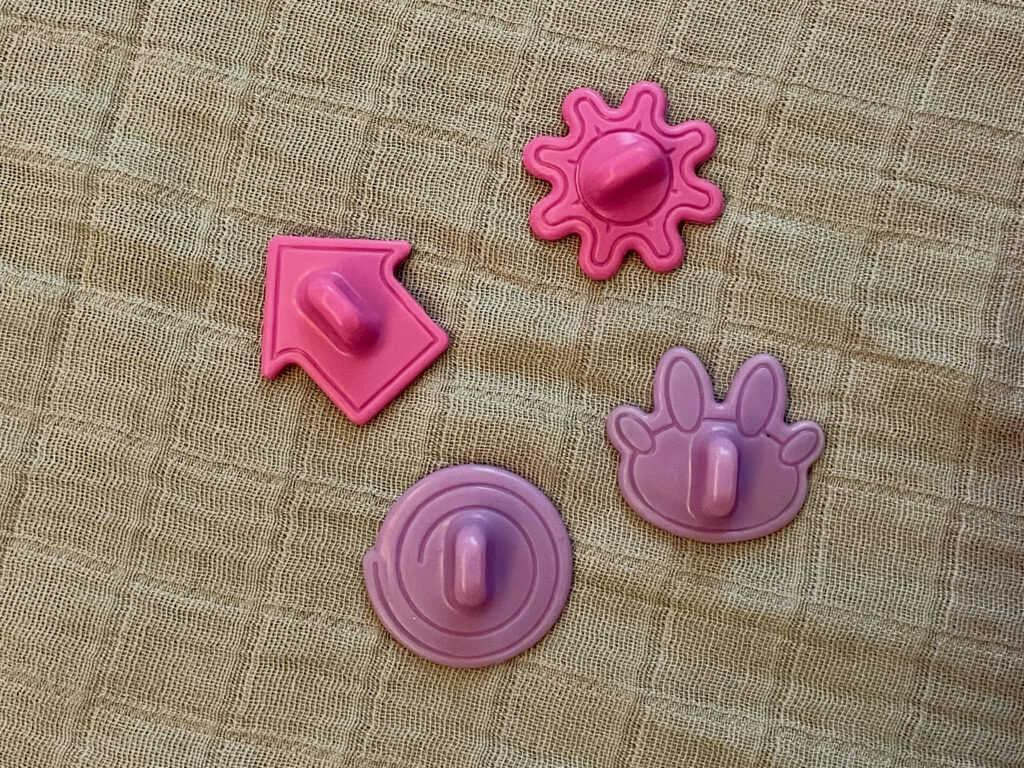 ---
Final Thoughts
For us, it's been important to have a variety of scribbling methods for Jin. Sometimes he'll grab the iPad and create some neon graffiti art, other times he'll want to scribble all over his play mat with the Crayola pens.
Most importantly for us, all of these drawing toys (with exception of the MegaSketcher) are really compact to store away so we can afford to have this variety.
If you're literally just starting out in finding some toddlers' first drawing toys, I highly recommend the Tomy Aquadoodle Travel Bag with the water pens. Or if you have one, a tablet with a drawing app.
Happy scribbling!
---
As an Amazon Associate, I may earn from qualifying purchases made via my website. Thank you for your support!