After my last post, 'Fun And Affordable Baby Toys for 6-12 Months' it really hit me just how many electronic toys Jin has. Don't get me wrong, I still recommend those toys but the sheer number of them, plus the more traditional ones, it's just too much. I guess I didn't realise because I see them everyday and they slowly accumulate.
It's the 'Too Many Toys Syndrome' and its time to do something about it! A toys detox it is.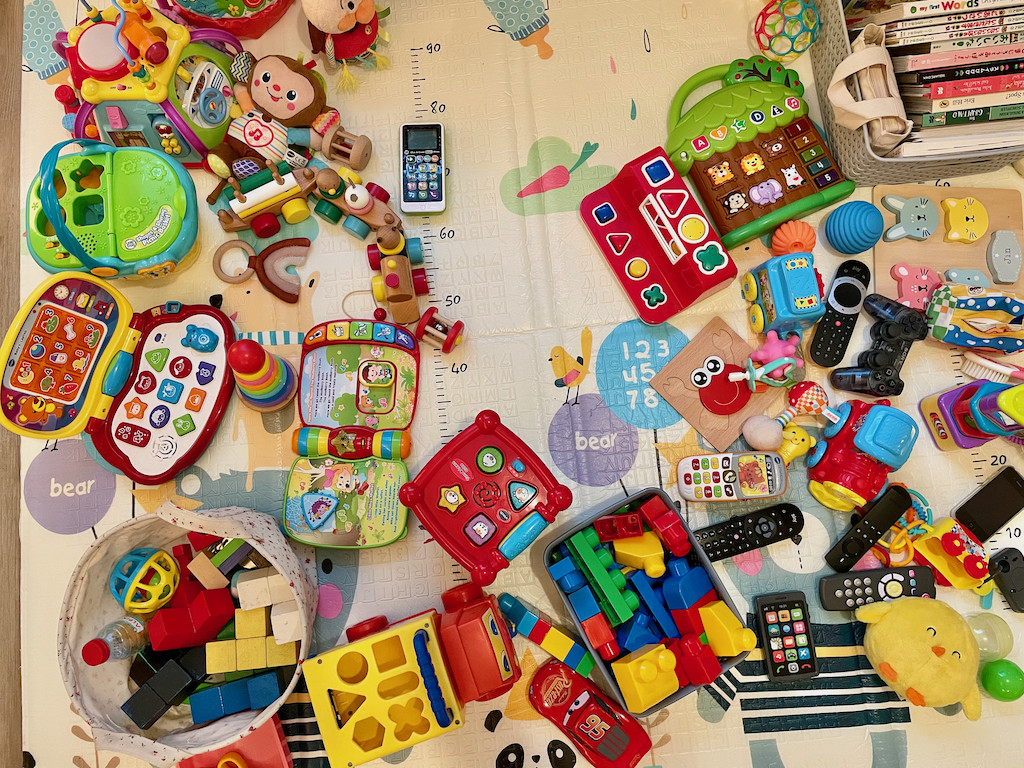 ---
Toys & TV Taking Over
As well as having too many toys, I've noticed Jin's watching too much TV and becoming more and more demanding by bringing me the remote to turn it on or change channels!
Gone are the days where he didn't take notice of the TV because he was too young, he now has his favourite programmes and a schedule! When did this happen??
I know not everyone exposes their toddler to these types of toys/TV but I'll be honest, I just cant commit to that because we really love our tech, so naturally, we're drawn to colourful, busy, techie toys and we love our TV!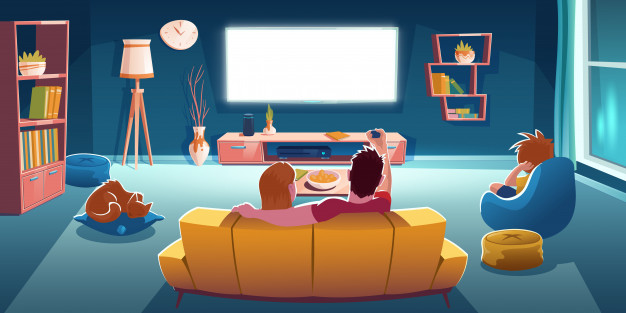 ---
Lets Try A Tech And Toys Detox
This imbalance of his toy collection and too much TV is making me freak out and worry about his development – all those flashing lights and constant music from multiple toys! Not to mention that our living room is a sea of toys! So I'm going to put Jin on a Tech & Toys Detox for 1 week!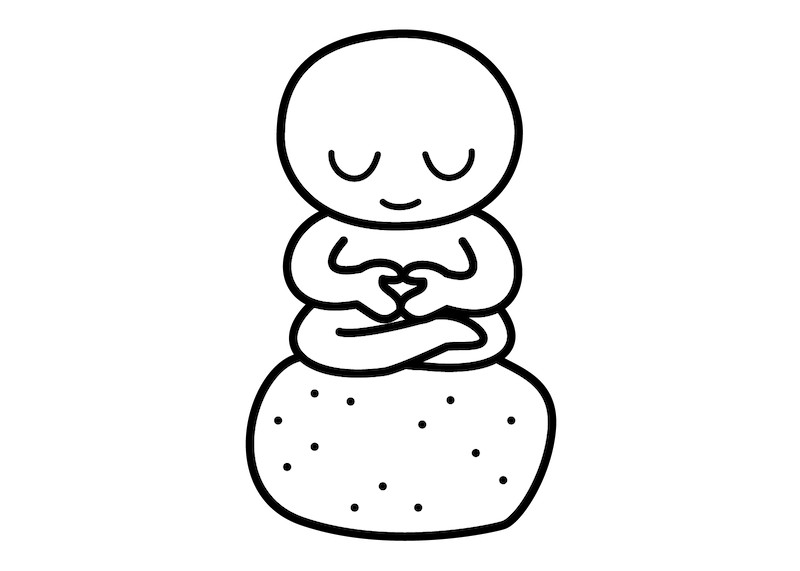 ---
The Plan
I'm going to keep this simple. There's no psychology explanation, no expertise behind this. I'm just a first time mum who's literally going to take away some electronic and regular toys to see what happens.
1. Put away all electronic toys
except

:

Swing & Sing Monkey – Jin's adored monkey since 3 months and it only talks and sings so I think it can stay

Remote Controlled Car – he doesn't actually control it, he mainly carries it around the flat

Leap Frog Smart Phone – he takes it everywhere with him and its educational! Its the only proper electronic toy I promise!
2. Put away a bunch of his non-electronic toys
I'll rotate them during the week
3. Make sure there's a balance of toys
Like wooden blocks, a puzzle, a shape sorter, a car/truck, plastic balls, drawing materials, soft toys and of course lots of books
4. Hide the TV remotes
The two remotes which he's so used to bringing to me.
---
The Before And After Scene
This is Jin's toy area before the toys detox, look how many electronic ones there are!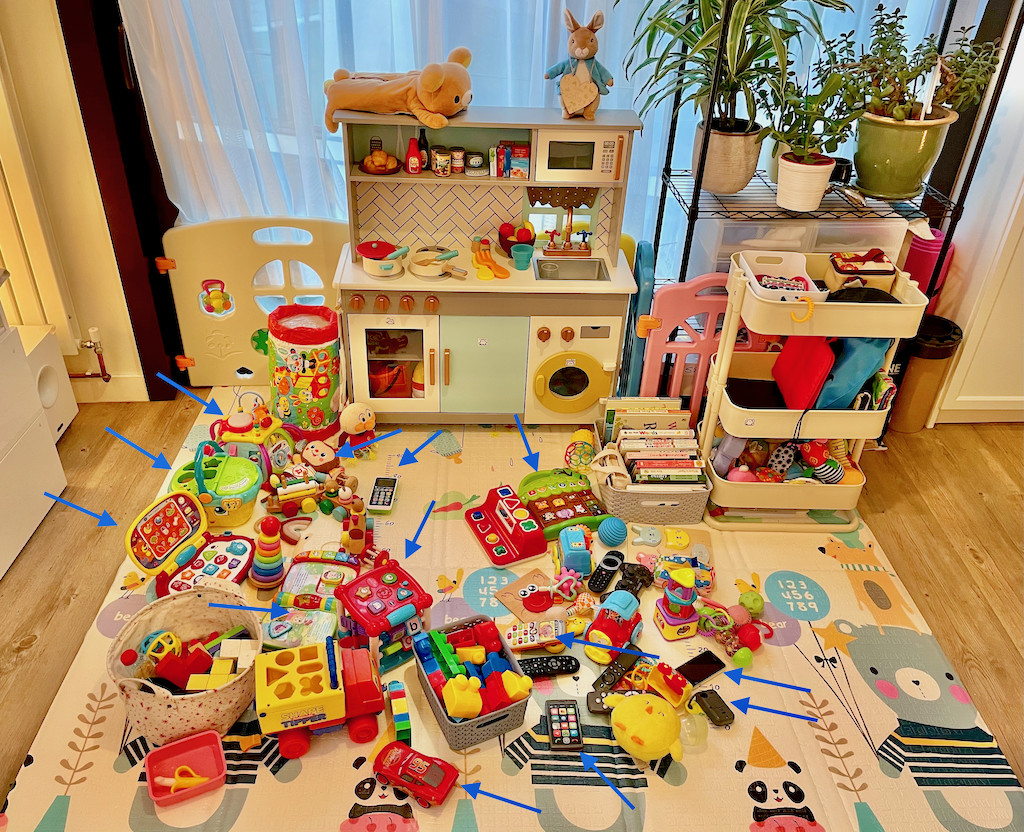 This is after I put away the electronic toys and reduced the number of items out in general.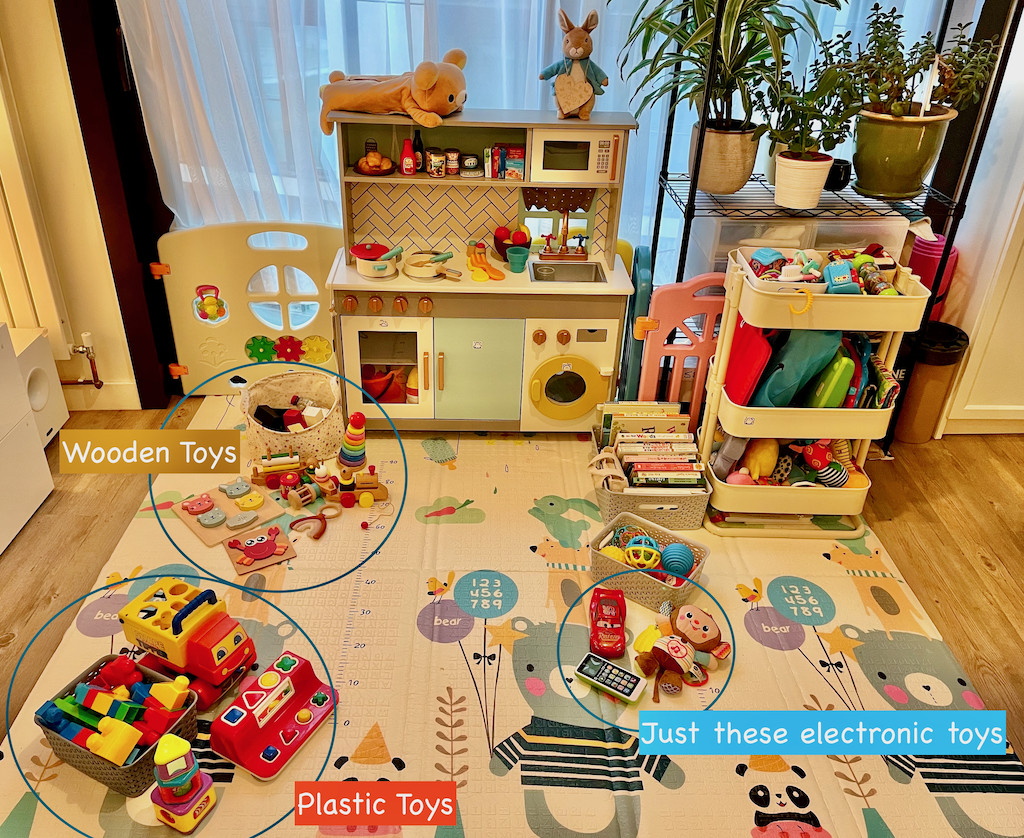 Lets see how he gets on for 1 week!
---
Let The Detox Begin!
Day 1
The day I took all (almost) the electronic toys away, I thought Jin would look for them or complain but he wasn't bothered AT ALL. In fact, 5mins after I put them away, he sat down in a corner and started playing with this wooden train set, which he hadn't taken much notice of until now!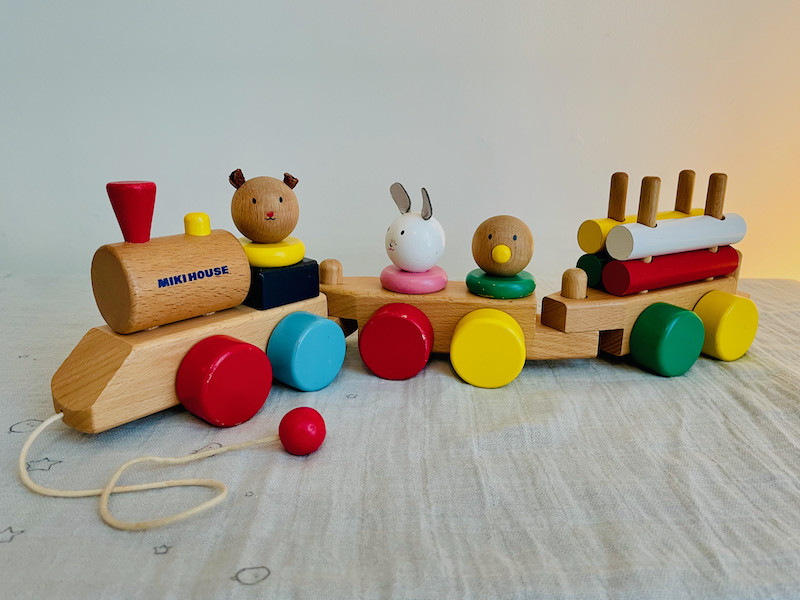 He did look for the TV remote at first but found something else to do with no problem.
Days 2-6
Still not bothered about the fact that the electronic toys are gone, he's focussing more on cooking in his kitchen, throwing and retrieving plastic balls and asking me to read a lot of books.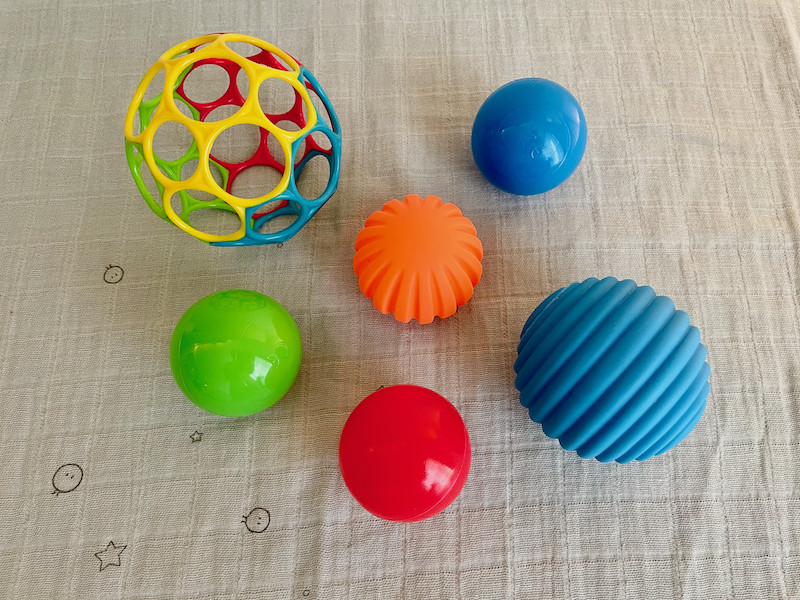 It doesn't seem like he misses TV too much either, so not being able to see the remote must be helping.
We still put his Japanese programmes on in the morning and afternoon because I think it's really important for him to hear the language as much as possible on a daily basis and not just from me.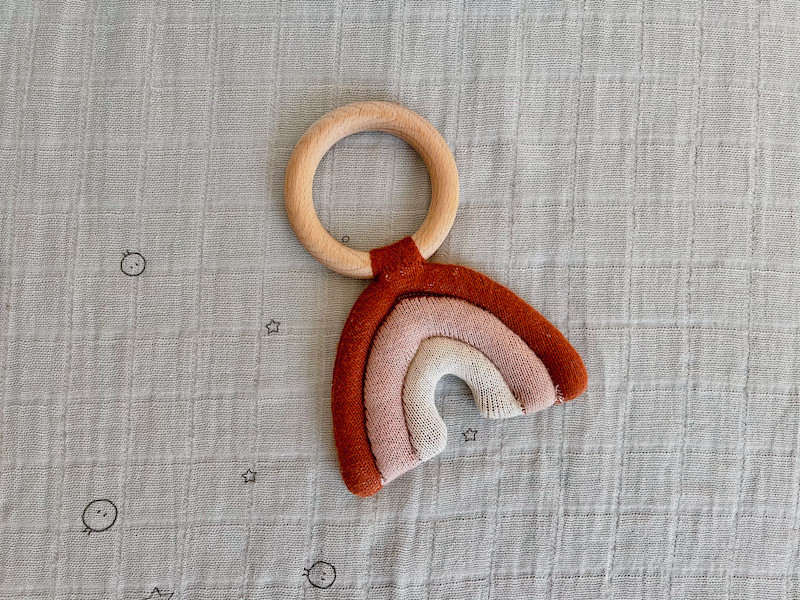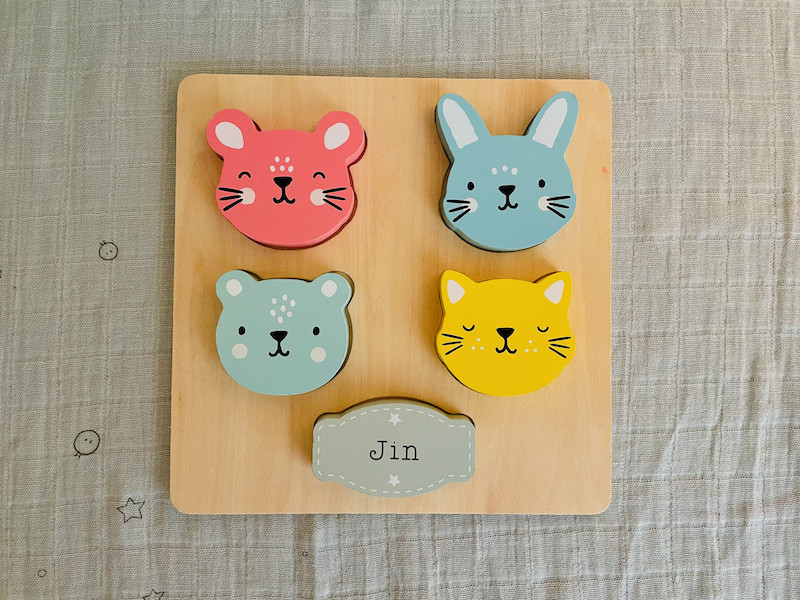 He's exploring and examining the wooden toys, playing with the building blocks more and loves to bring me things, take them away and repeat.
His favourite phone still gets some attention every now and again but only to play the number game – the phone asks you to press certain numbers.
The Final Day 7
Jin's kept up playing with a wider variety of toys and he's loving our little game where I hide the remote controlled car by driving it under/behind things and he goes to find and retrieve it.
Im really noticing that he's finding new ways to play with the toys he has like this pic below! He spent quite a long time with this rainbow toy on his foot!!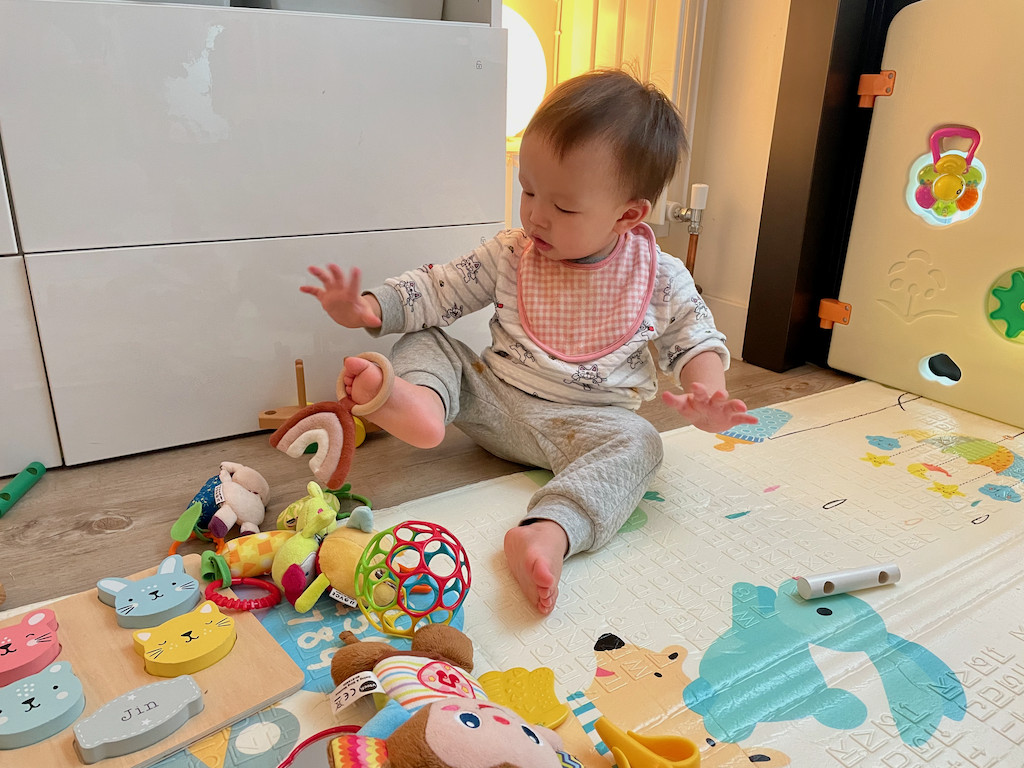 ---
What We Learnt
1 . He didn't go looking for the missing toys at all, even his favourite ones and happily played with what's out. It's on us to make sure we rotate a variety of toys.
2 . He took a lot more interest in the other 'non flashy' toys that he didn't pay attention to before – examining them, walking around with them and finding new ways to play with them.
3 . Electronic toys can be really useful in baby's development, especially when it comes to learning numbers, shapes and the alphabet, just not when it's an overload of them.
4 . He's not addicted to TV! He's not too bothered as long as he can't see the remotes!
---
Final Thoughts
It probably wasn't necessary to take away all the electronic toys at once but I wanted to see how Jin would react. He didn't seem to notice there was a toys detox going on at all and he really showed me how flexible and chilled he is about what to play with so I'm really happy about that.
From now on, I'll make sure there's a good balance of toys and that I rotate everything more often.
We're also really enjoying the less cluttered living room.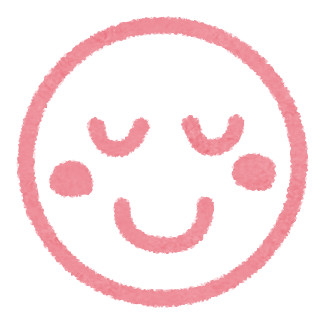 I'll continue to hide the TV remotes – he can still watch his usual Japanese programmes but not on demand!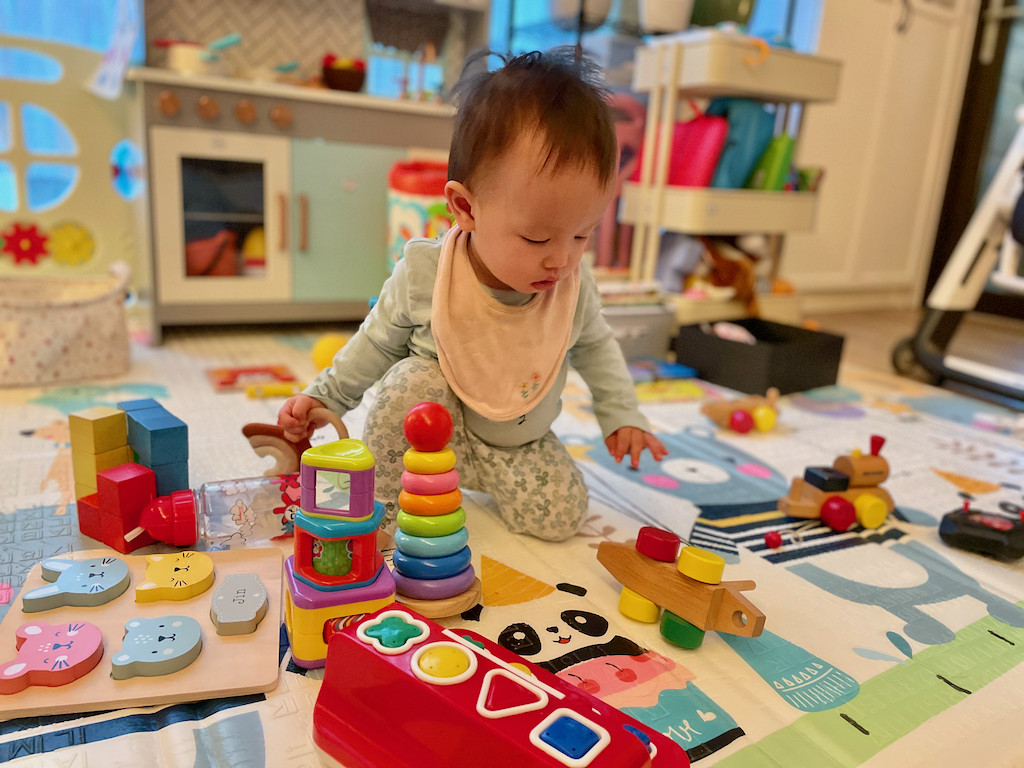 Have you gone through this 'too many toys' stage? Did rotating work for you?
---
List of Toys You Can See In The Pics
George Asda Wooden Kitchen – see my full review here
John Lewis Stacking Rings
My First Years Animal Puzzle
Early Learning Centre Shape Sorter
Mega Bloks First Builders Maxi Bloks
Sensory Balls
Miki House Wooden Train Set – this is from Japan but I found a similar one here
Swing & Sing Monkey
Leapfrog Chat & Count Smart Phone
Cars 3 Lightning McQueen Remote Controlled Car
---
As an Amazon Associate, I may earn from qualifying purchases made via my website. Thank you for your support!
---