I started off breastfeeding baby Jin but he and I had A LOT of obstacles… and so at 4 months old, we decided to combination feed and introduce formula, which we weren't prepared for! We had to quickly put together a bottle station and find space for it in our compact London apartment.
Our Bottle Station for Newborn Jin
Here it is, at the end of our cluttered kitchen counter. We cleared a dedicated space here because its closest to the bedroom and the front door – perfect for when we're rushing to get milk at night or grabbing milk supplies on our way out.
Read on to see details on each item.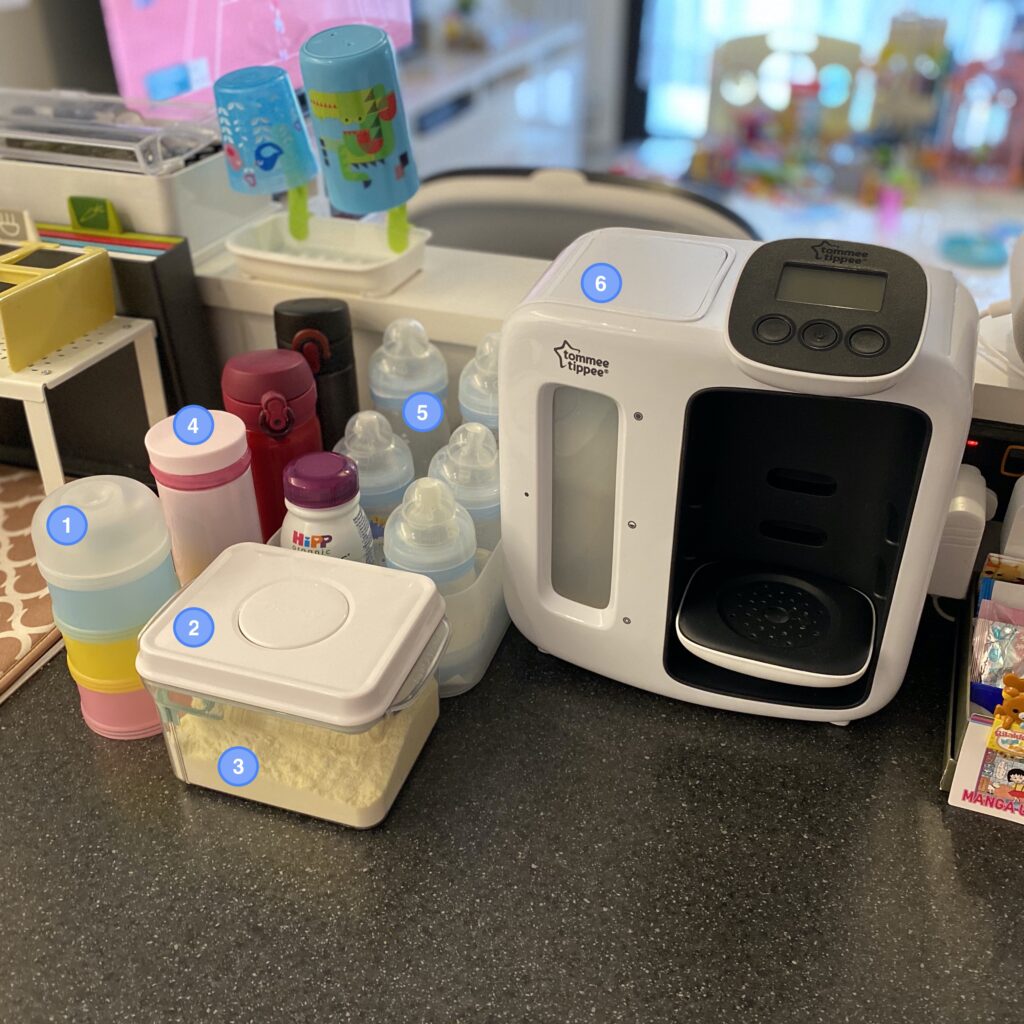 Click on the links below to jump to the relative section:
1. Milk Powder Dispenser Containers
2. Milk Powder Storage Tub
3. Hipp Organic Milk Powder
4. 250ml Thermos for going out
5. MAM Bottles
6. Tommee Tippee Perfect Prep Day & Night
(No steriliser tools, as our bottles are self sterilising. Read on below)
---
1. Kidsmile Formula Dispenser and Snack Storage Container
£11.99 @Amazon
Product Link
When I was looking for a formula powder dispenser, at the time there were a lot of triangular types with individual lids to each section but reviews showed that the powder gets stuck and doesn't come out of the opening easily. Not what you want when you're in a hurry to make milk for a screaming baby!
So I went for the capsule type where the opening at the top is shaped like a funnel so the powder comes out easily.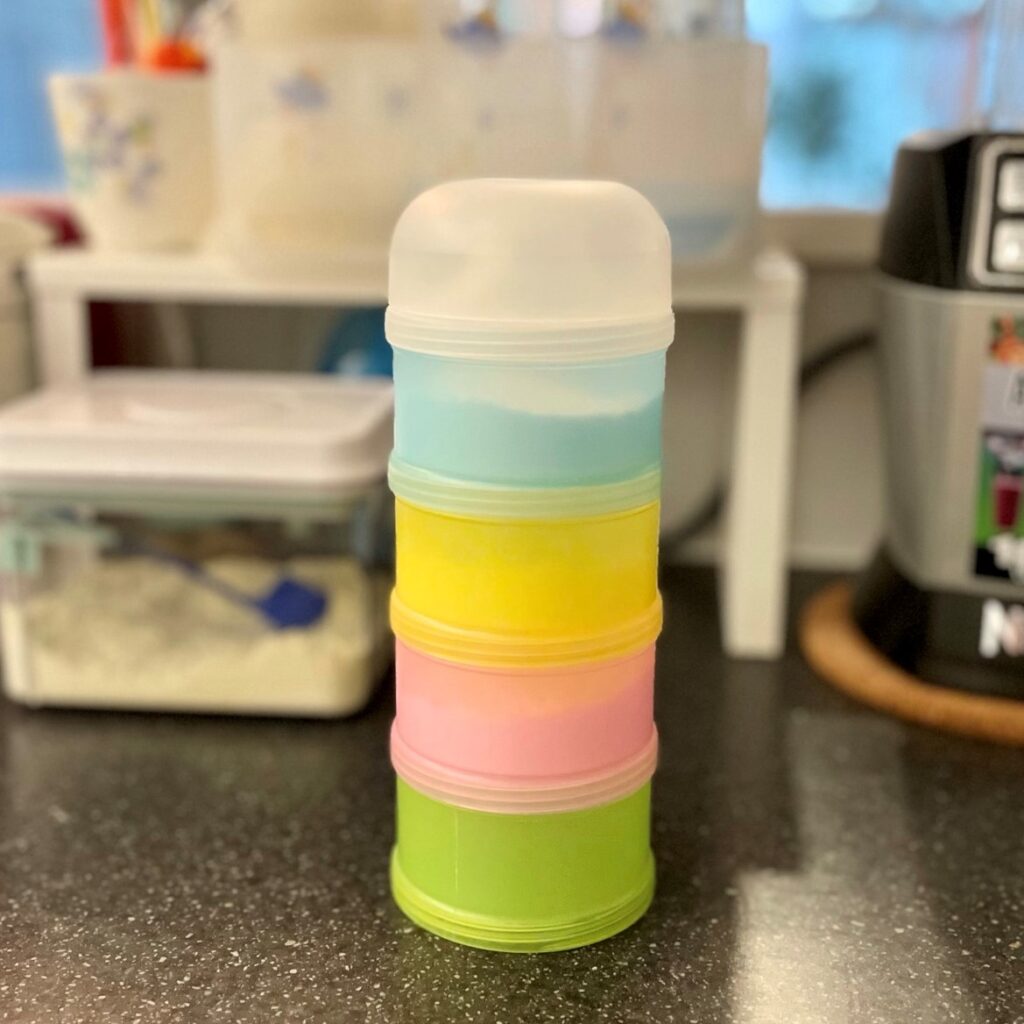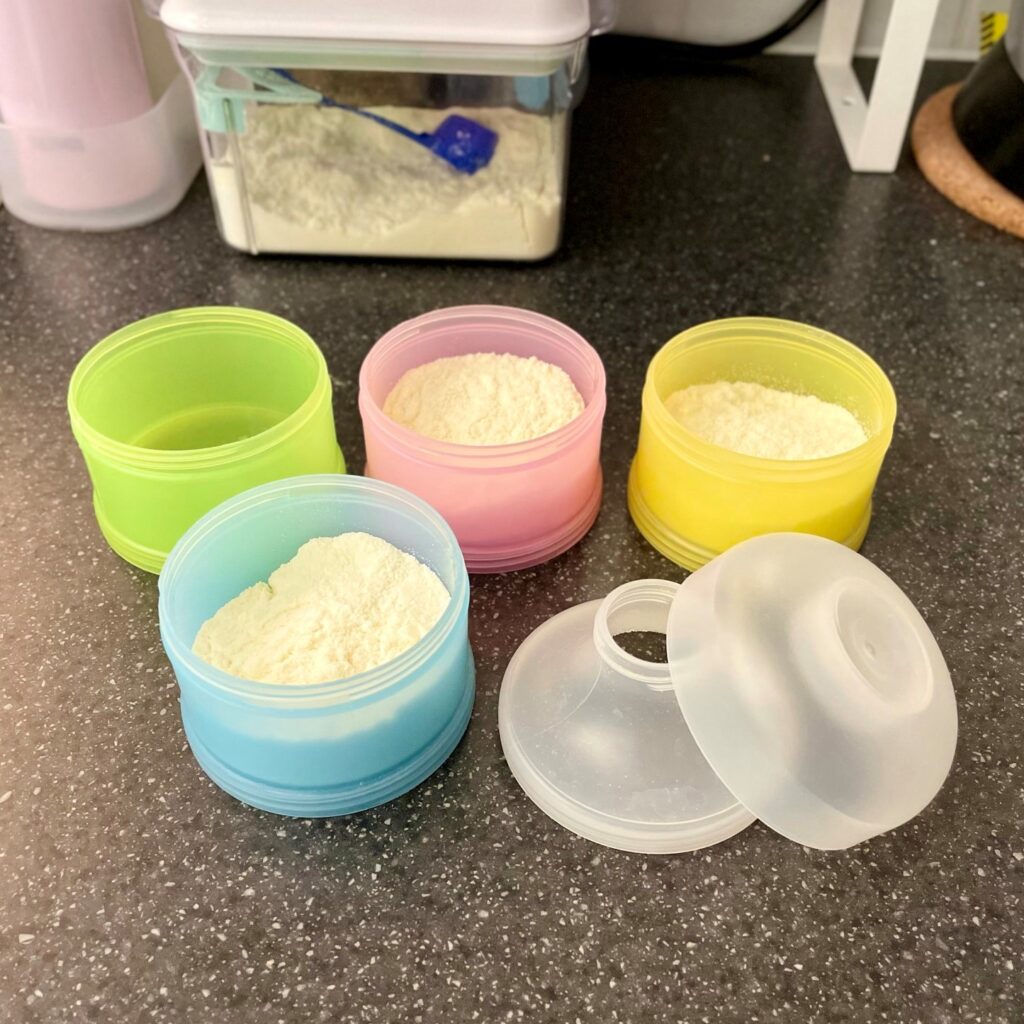 Dimensions:
In total H20 W7.5cm
Each container H4.7 W7.5cm
Capacity: In the picture I have 6 scoops of Hipp Organic Milk Powder in each container
How I Use It
These capsules were useful for using at home and travelling:
Home – I would have the formula powder measured and ready in the capsules

Out – Depending on how long I was going out, I would usually take 2 capsules of powder and manually make formula on the go
˚✧₊⁎ Amazon Says ⁎⁺˳✧˚
4 separate compartments for 4 feedings – up to 10 scoops
Easy pour sprout dispenses right into the bottle
Easy to separate compartments and lid to clean after use
Narrow footprint means it can be stored easily in buggy bags and bottle and coffee cup/drink holders
BPA free, dishwasher safe
Versatile – can also be used for fruit, snacks, baby food or accessories
Jin has just graduated formula, so I'll be using these as snack pots or for crafts.
---
2. Ankou Baby Milk Powder Dispenser 1000ml
£16.99 @Amazon
Product Link

A must-have for the bottle station. This is NOT just another piece of tupperware! It makes scooping milk powder into bottles so much easier and quicker, compared to using a screw top lid or those 3 hinge locking types.
Yes its a bit pricey for a box but its worth every penny.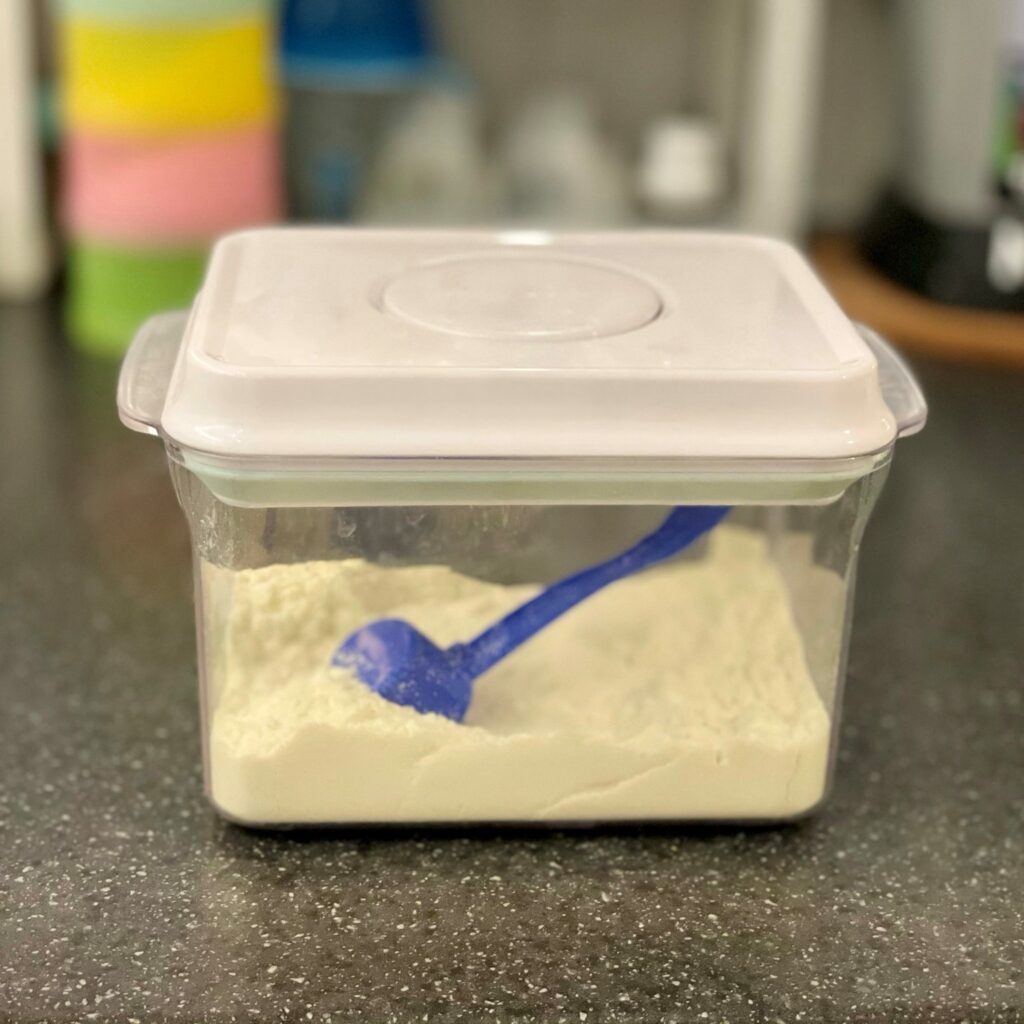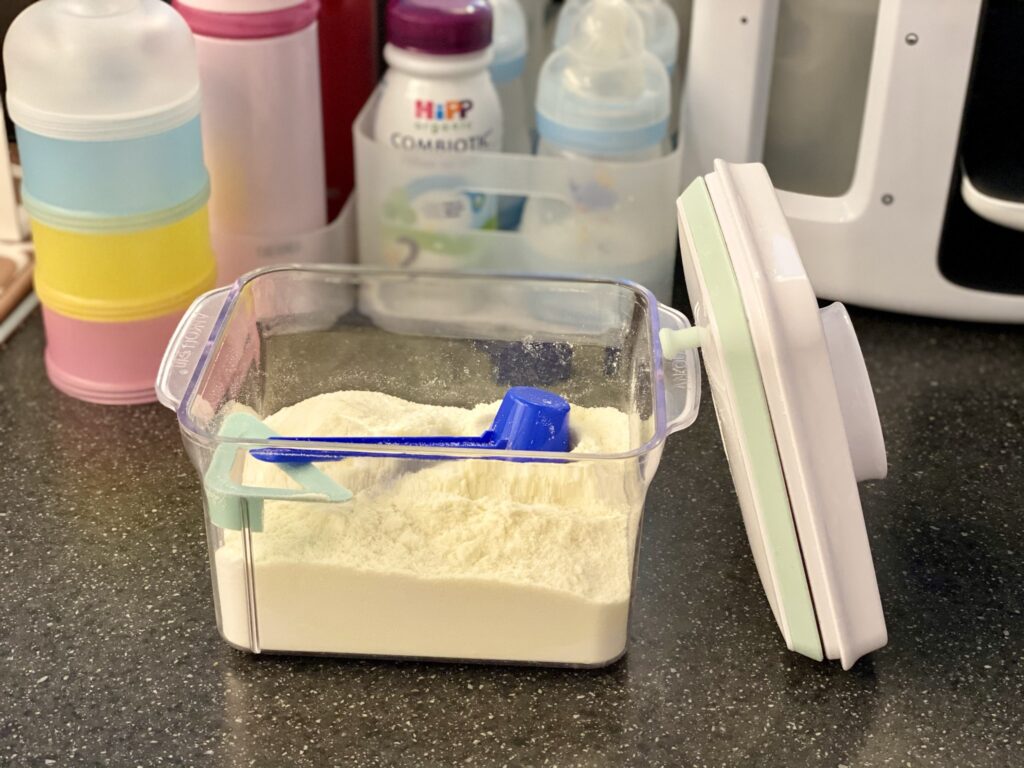 Why I Love It
❤

One hand one touch opening and closing by pressing the big button on the lid
Scraper is so useful to accurately measure the powder and is a time saver
Heavy enough that when you open the lid and scoop the powder one handed, the tub doesn't move around
Air tight so keeps the powder moisture-free
In the day time, I would scoop the powder from the tub into the bottle because I usually wasn't too rushed but for night time, I would scoop the powder into the capsules mentioned earlier, so I just tip it into the bottle, or even better, have the powder ready and measured in the bottles.
˚✧₊⁎ Amazon Says ⁎⁺˳✧˚
Dimensions 17.5 x 10.9cm Weight 292g
One press button design – can be opened with one click, can be sealed with one press
High-quality sealing ring inside the lid to keep the milk powder clean and dry
Wide range of uses: milk powder, protein powder, grains, pasta
Scraper in one corner to level the spoon of powder
Lid can be hung on the edge of the box for hygiene
Easy to clean
Ankou is a South Korean brand that was originally only shipped from South Korea but its now available at Amazon UK.
---
3. Hipp Organic Milk Powder
I won't go too in depth into this unless you want me to, but from our personal research, we understood that baby formula are all very similar, since in the UK, formula is strictly controlled by The Infant Formula and Follow-on Formula (England) regulations… so that made it difficult to make a decision!
But after reading a report from the 'First Steps Nutrition Trust,' we decided on Hipp Organic because they explained that Hipp had the least 'unnecessary added ingredients'.
Either way, Jin took to it well from the start and never had a problem with it so we were happy.
---
4. Thermos Travel Mug, Screw Type, 250 ml
Approx. £12.14 @Amazon Japan
Product Link
My collection of Thermos' have been really useful when making formula on the go.
I have lots in many sizes and colours but I'll talk about this collection in a future post and will link it when posted.
Capacity: 250ml
Dimensions: 6.5 x 6.5 x 15.5 cm
Weight: 150g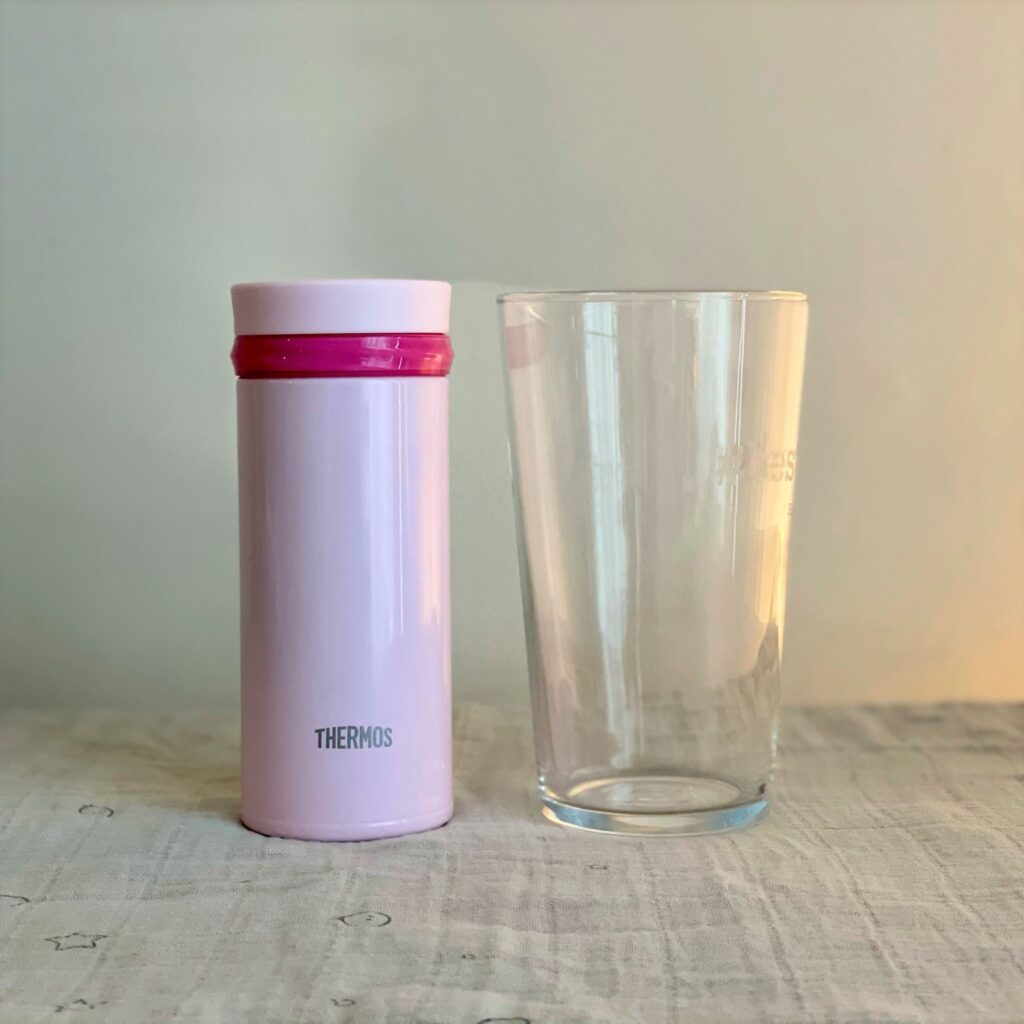 ---
5. MAM Easy Start Self Sterilising Anti Colic Starter Set
£34.99 @Amazon
Product Link
There are so many bottle brands out there but after all the research and checking online reviews, we went with MAM.
What's In The Box
Parts to build 4 complete bottles (cap, Slow Flow No.1 teat, neck, base)
x4 260 ml bottle bodies
x4 160 ml bottle bodies
x1 bottle handle attachment
Soft spout
Soother for 0-2 months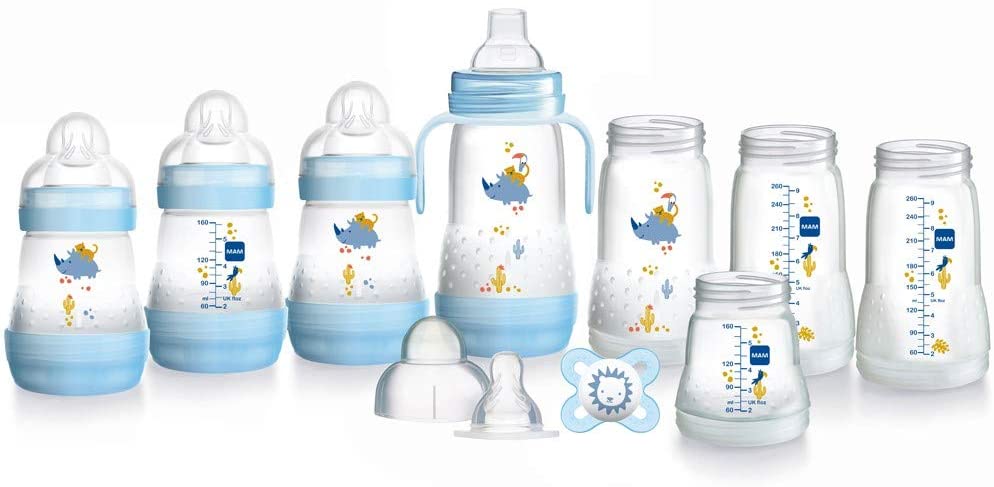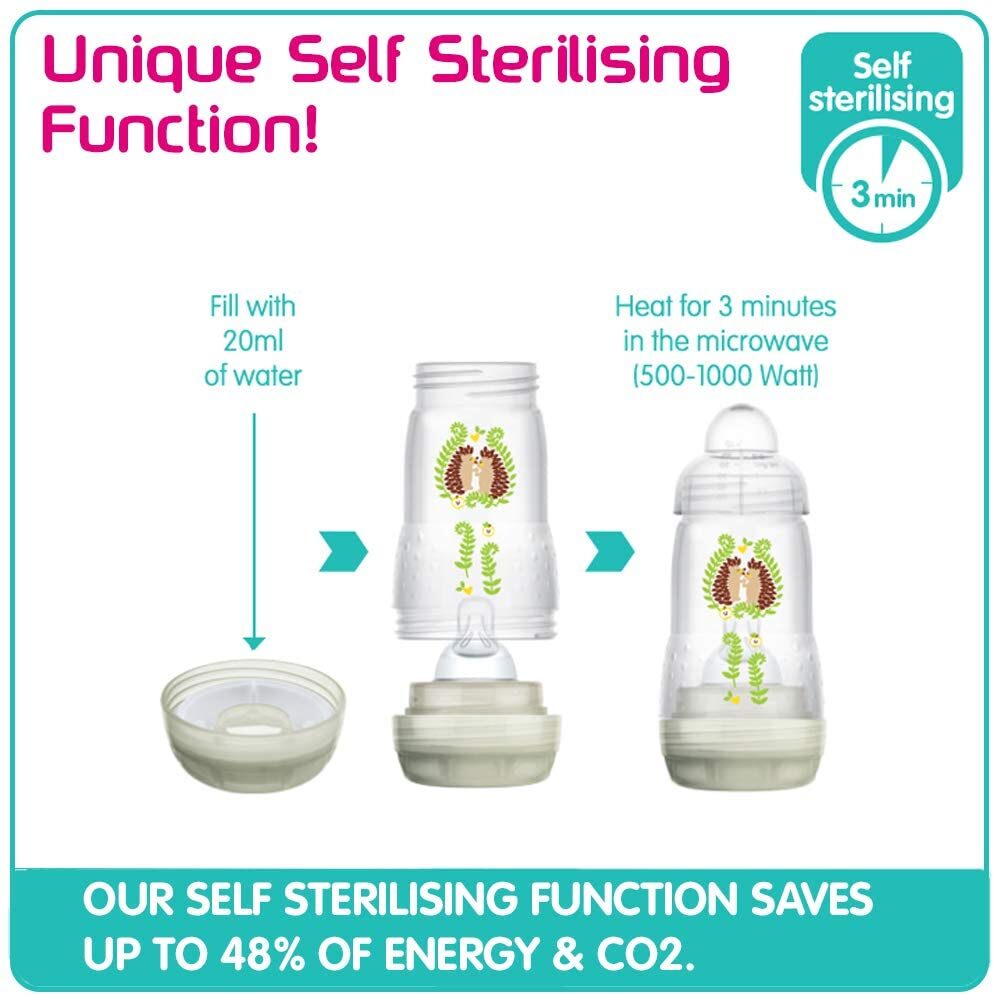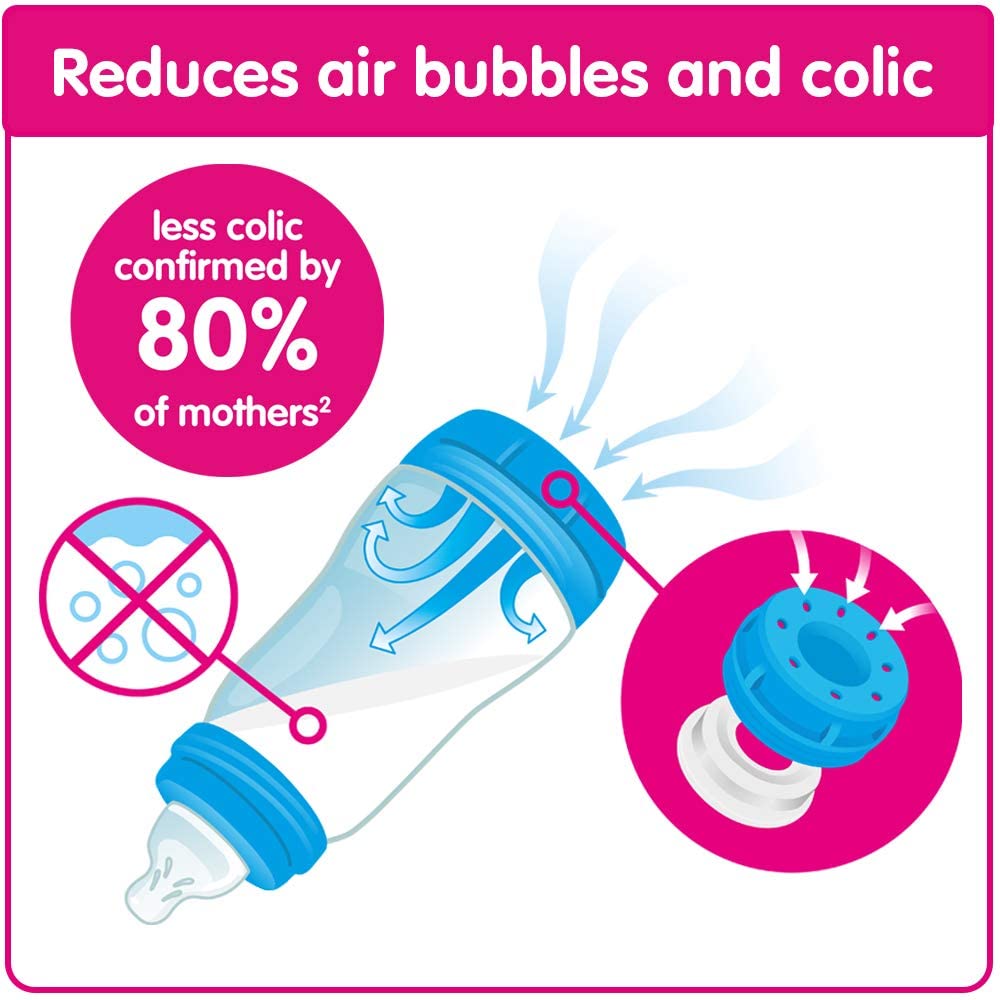 Why I Love Them
❤

Cone Shape
It makes it easy for baby to tip the bottle, unlike some brands that make stumpy fat bottles, which is harder to get all the milk out
Self Sterilising
It may seem tedious deconstructing and constructing the bottle to sterilise each time but we got used to it straight away. it becomes routine and super useful when you're out or staying over someone's
Complete Set
Has accommodated since Jin was 4 months to now just over a year. The only extra you may want to buy are fresh teats every now and again and more bottles if you're using them a lot
Anti Colic
We never had a problem with colic or wind but maybe its because of the smart venting function of these bottles
Transition to Water
We used attached the handles and soft spout to the bottle to introduce Jin to drink water
˚✧₊⁎ Amazon Says ⁎⁺˳✧˚
Anti-Colic – vented base design prevents build-up of air bubbles in the bottle
Self Sterilising – bottles can be sterilised with 20 ml of water, a microwave, and 3min
BPS and BPA-free, making it ideal for either safely frozen or refrigerated breast milk storage or immediate feeding
Different sizes aid in the transition from bottle to cup
MAM silk teat makes switching between breastfeeding and bottle easy, thanks to its patented silky soft silicone surface
Comes in 4 colours: Blue, Grey, Beige, Pink
Dishwasher safe
How The Bottles Come Apart and Self Sterilise
Each bottle is made up of 6 parts: Cap, teat, neck, body, base, base rubber insert.
You take all of it apart to wash, you can of course put everything in the dishwasher.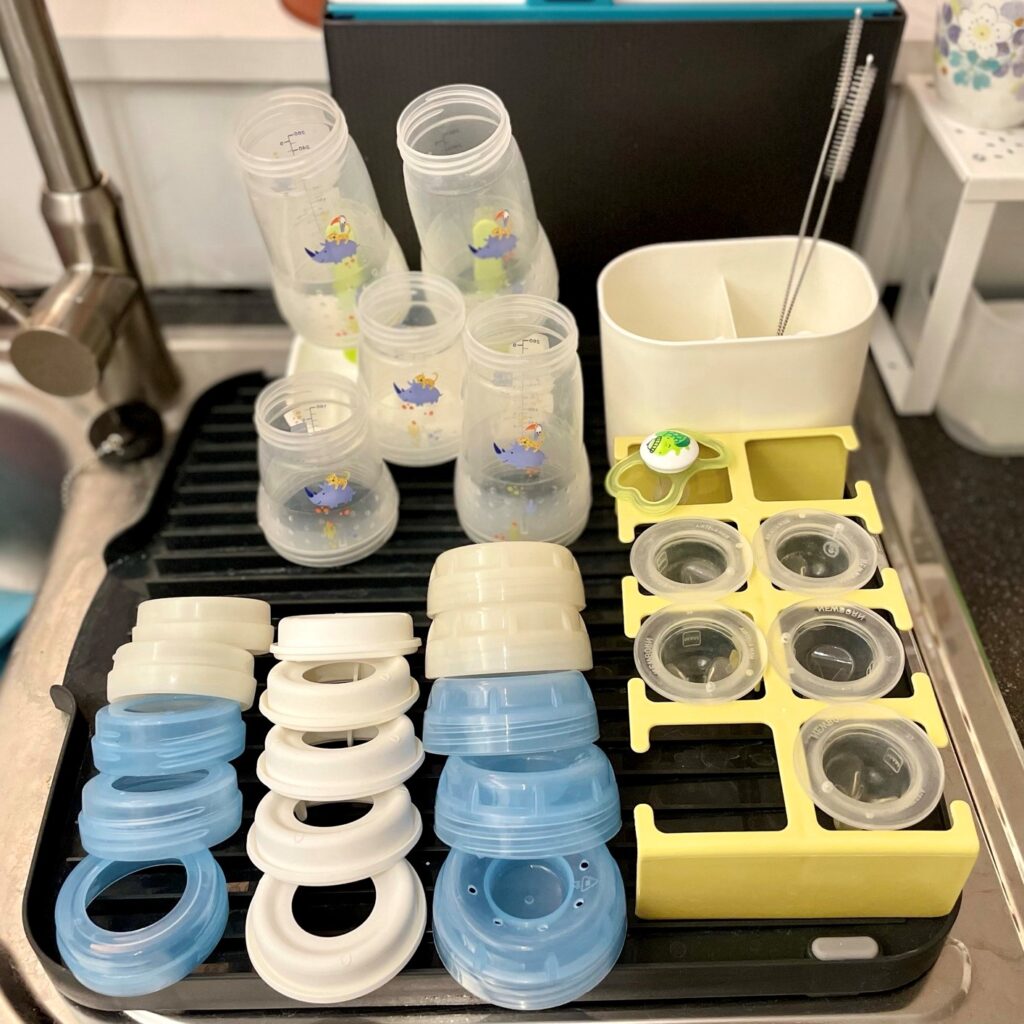 Then sterilise by re-stacking the bottle like this – some water, the teat and neck go in the base, covered by the body and cap and you microwave. Super convenient when you're out and have access to a microwave.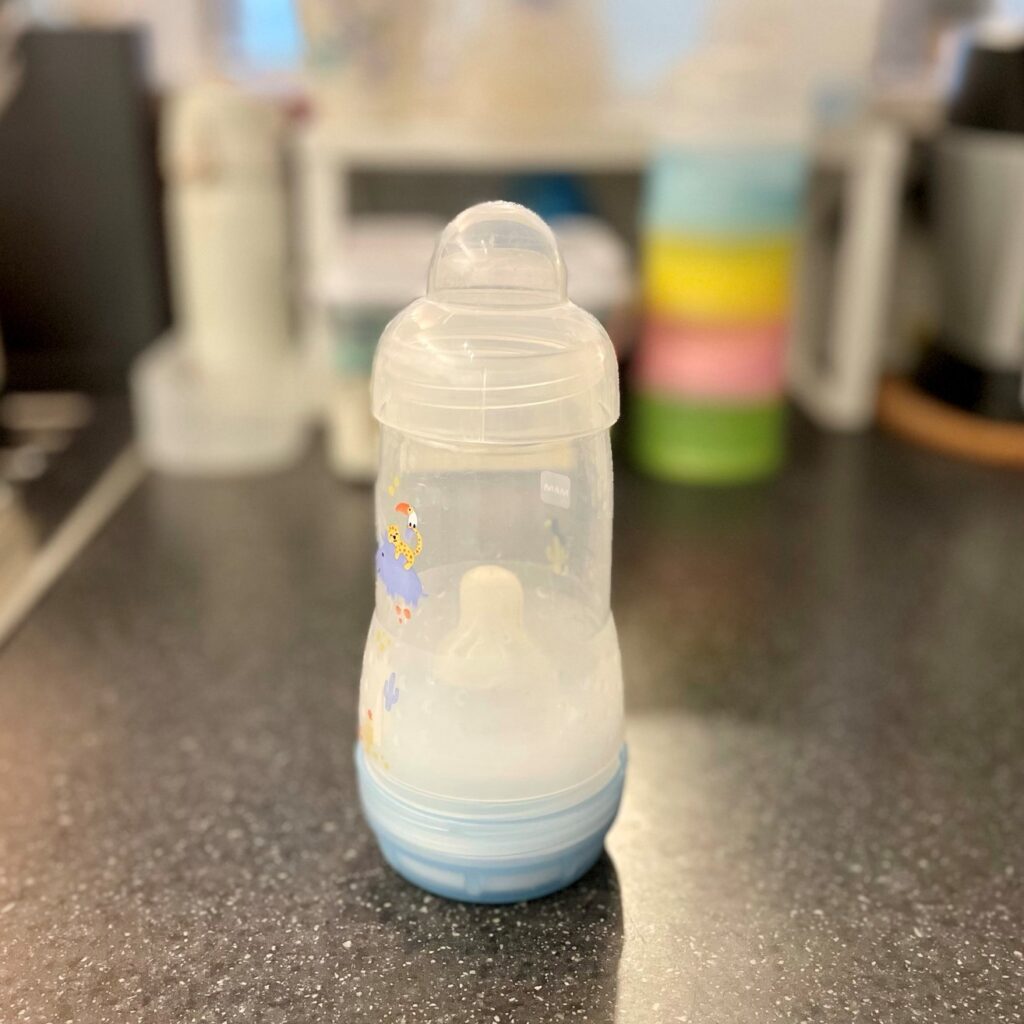 ---
6. Tommee Tippee Perfect Prep Night & Day
£99.99 @Amazon
Product Link
Now this MAKES the bottle station – I call this the baby espresso machine – its a game changer!
Jin's bottle was ready in no time at all and I could prepare it in the dark half asleep. He even got to know the sounds of the machine so he'd know milk is on the way.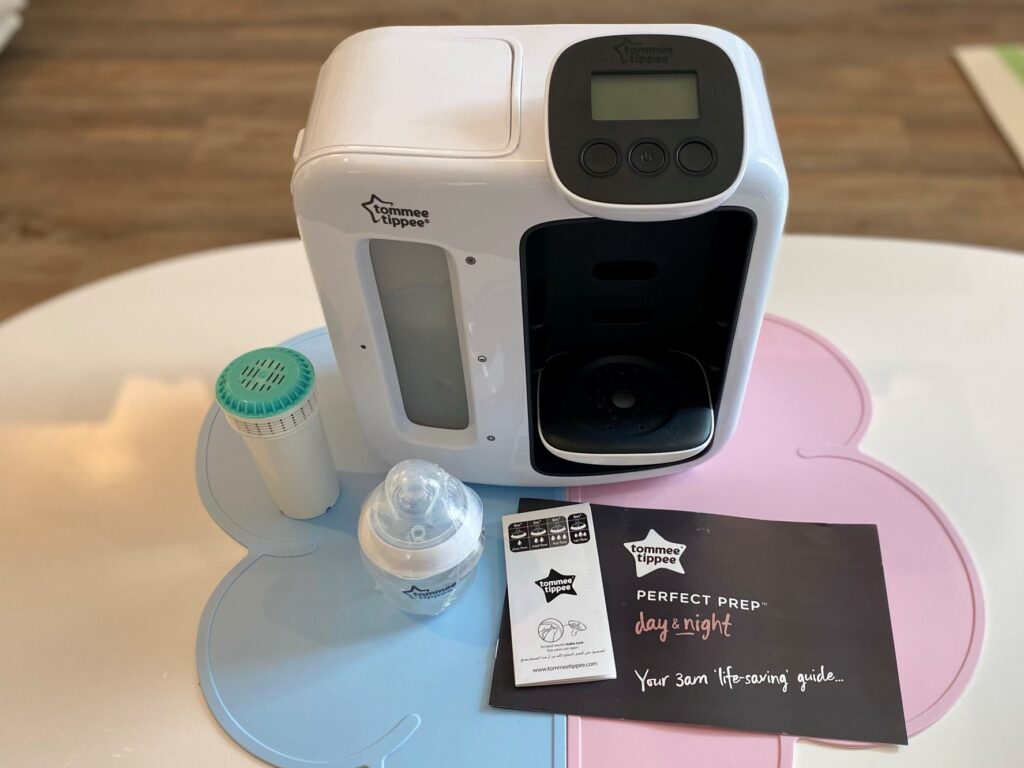 What's In The Box
Milk Machine
x1 Anti-bacterial Filter
150ml Milk Bottle for newborn with slow flow teat
x1 Lid for the milk bottle
Why I Love It
❤

Bottle is ready by pushing the middle button 4 times
Compact and doesn't take up too much room, even in my small'ish kitchen
Fairly quiet when heating and dispensing the water and you can turn off the beeping sounds if preferred
This could also be a negative but each time you turn on the machine, the digital display takes you through step by step. This is good if someone is helping you out and is not familiar with the machine, but can be a time waster if you know how to use it and you can skip these instructions
˚✧₊⁎ Amazon Says ⁎⁺˳✧˚
Dimensions 23.4 x 33.5 x 31 cm Weight 2.64 kg
Baby bottle ready in 2 mins at the ideal volume and temperature
Sleep friendly adjustable volume control
Night time glow shines gently making night time feeds clear and simple
Clear and easy to use digital display
Works with most baby bottles and baby formula brands
Now, you can of course save your money and make formula manually – prep the hot and cool water in a thermos (especially for night time), pour hot water, shake, add cool water, shake again. But after doing this for a few days I was losing my mind! So I decided to invest and it saved us time and restored our sanity.
---
Keeping Organised
It can get a little hectic around this bottle station so I keep things like the milk bottles and Thermos' organised in these boxes.
Also useful for keeping dummy cases stacked, dummy connectors, vitamins and creams, the list can go on forever.
PP Vanity & Organiser Boxes
£0.95 – 4.50 @Muji
Product Link
Where would I be without my organiser boxes. I like to compartmentalise everything so Muji is my go to for their quality products.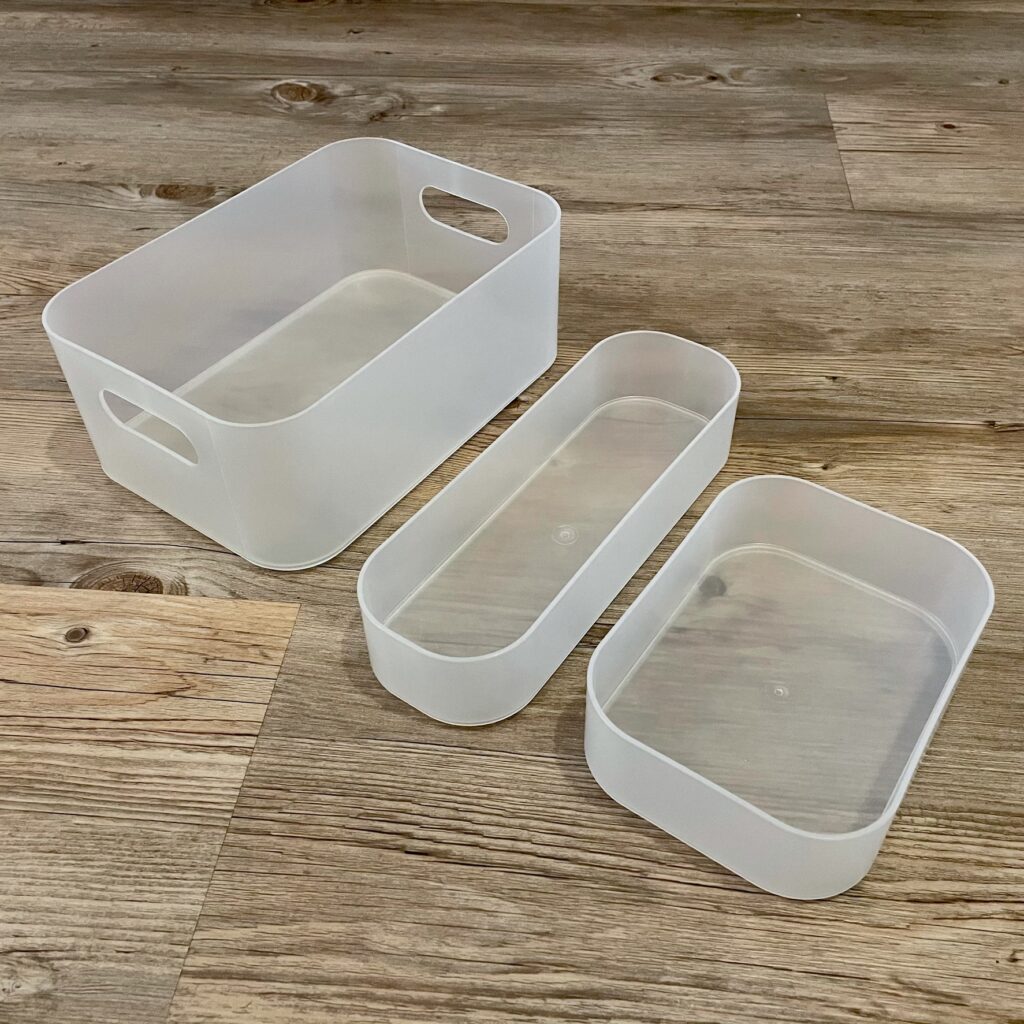 Material: Polypropylene
Dimensions:
Large H8.6 L22cm D15
Long H4.5 L22 D7.6
Small H4.5 L15 D11
Variera Shelf
£2 @IKEA
Product Link
I have so many of these inside my cupboards and around the apartment, its a necessity for small spaces! Super handy for a bottle station so you can keep everything compact without wasting space.
Dimensions: H16 L32 D13 cm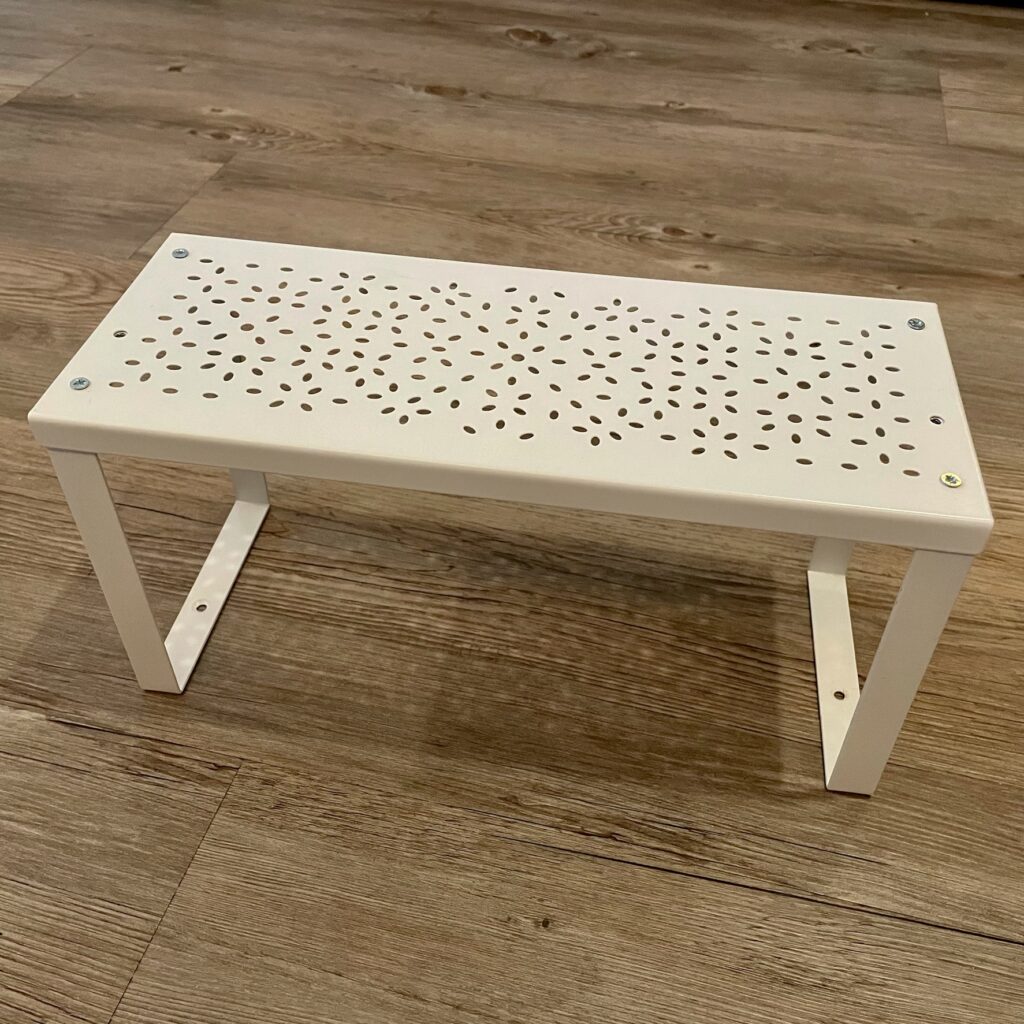 Little Ones 8 Food Freezer Pots – The Plastic Rack
£3.50 @Sainsbury's
Product Link
This set comes with a plastic rack to hold all the pots in place in your freezer but instead of using it for its intended purpose, I used the rack next to my sink to dry small items like pacifiers and bottle teats.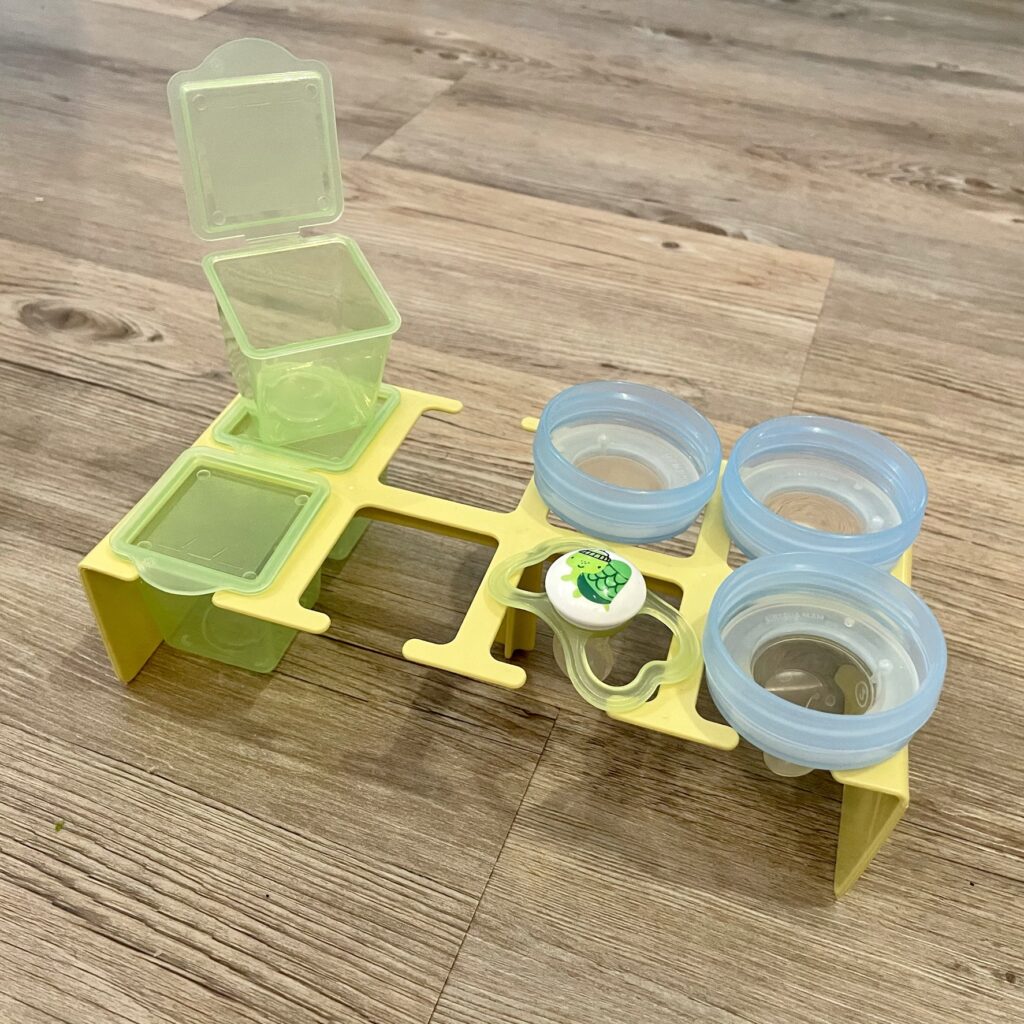 ---
Our Bottle Station Today
And Here's Our Bottle Station Today for 1 Year Old Jin. Its more like a water/drinks/snacks station for all of us now but we still use it everyday. See my post on baby water bottles here.
---
As an Amazon Associate, I may earn from qualifying purchases made via my website. Thank you for your support!
---